Filet Mignon
Filet Mignon is a steak, cut from the tenderloin. It's a thick cut of meat that has great flavor. When properly cooked, it's beautifully tender and juicy.
The best steaks I've ever had are the ones that are flavored simply and cooked perfectly. The flavor in this recipe, while simple, is amazing. The meat is seasoned with plenty of salt and fresh cracked pepper. Then, Garlic Butter!
Once the filet is cooked, put a big ol' scoop of Chef Shamy Parmesan Basil Garlic and let it melt all over the top. It's delicious! The garlic flavor and hint of cheese perfectly compliment the tender beef! Because this particular cut of meat is fairly lean, and fat of the butter adds the richness needed!
Cooking Steak
Steak is best when it's seared on a hot pan, then finished in the oven. When I say hot, I mean HOT. Sizzling. The sear help to lock the moisture and flavor inside the meat.
Finish your steak in the oven, and cook to your preference.  Use a meat thermometer to keep an eye on the steak. Nothing is worse than overcooked filet mignon!
Here's a handy dandy guide to help you out.
Rare
120°-125°F (49°-51°C)
Medium Rare
130°-135°F (55°-57°C)
Medium
140°-145°F (60°-63°C)
Medium Well
150°-155°F (65°-69°C)
Well Done
160°-175°F (71°C)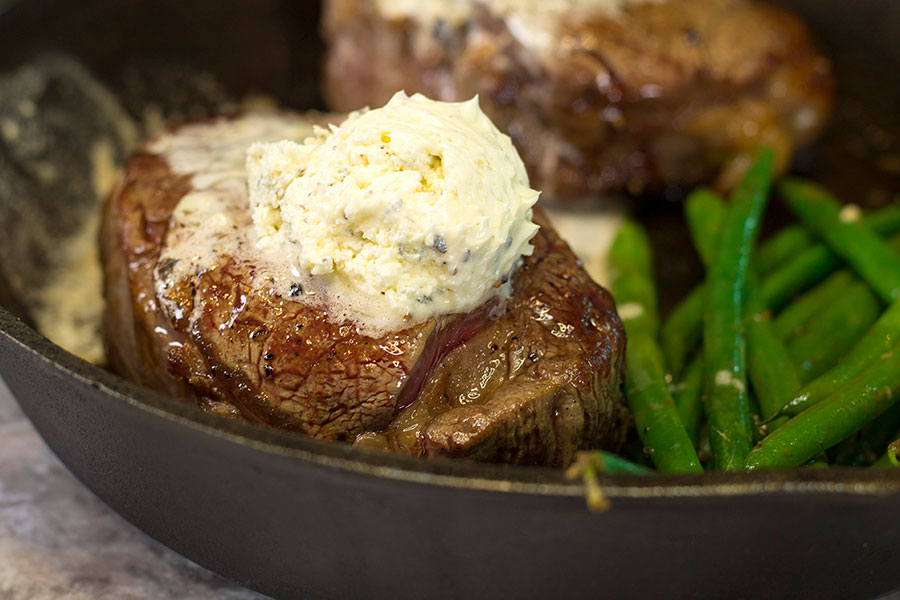 Sides
There are a thousand different side dishes you can serve with steak. Potatoes, rice, pasta, and any combination of veggies. The perfect steak deserve perfect sides!
Here's my ideal side dishes for a delicious filet mignon:
Garlic Mashed Potatoes! This recipe is creamy and flavorful. With or without gravy, it's the best you'll ever taste.
Lemon Dill Asparagus: one of my favorite vegetables, seasoned perfectly!
Cheesy Garlic Herb Pull Apart Bread! There's nothing like a crusty loaf of garlic cheese bread to inspire the whole table!
What would you serve with a perfect steak?
Enjoy!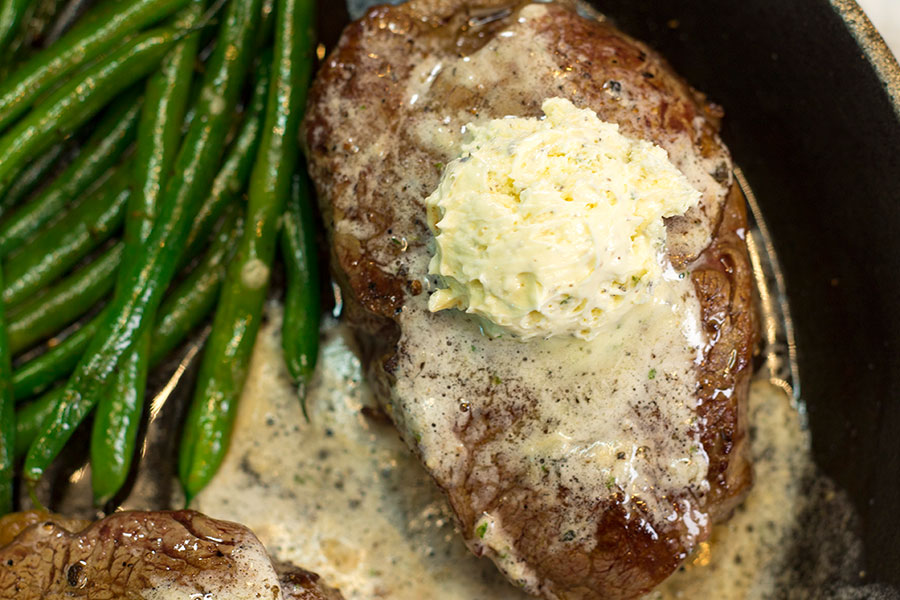 Pan Seared Filet Mignon with Garlic Butter
Course: Dinner
Ingredients
4 (8 oz) Filet Mignon steaks

2 T olive oil

2 tsp salt

1 tsp fresh pepper
Directions
Preheat oven to 400° F
Season steaks with salt and pepper on both sides.
Heat olive oil in an oven safe skillet until piping hot. Gently lay steaks into the pan, and sear, 1-2 minutes each side.
Place pan in the oven and cook 7-10 minutes, or until it reaches your preferred level of doneness.
Take out of the oven and place 1 T of Garlic Butter on top of each steak, and allow it to melt.
Rest for 5 minutes, then serve.
Notes
Rare[br][br]120°-125°F (49°-51°C)[br][br]Medium Rare[br][br]130°-135°F (55°-57°C)[br][br]Medium[br][br]140°-145°F (60°-63°C)[br][br]Medium Well[br][br]150°-155°F (65°-69°C)[br][br]Well Done[br][br]160°-175°F (71°C)