Crack Bread
Because it's so delicious it's addicting. Which is true. So ditch the long name and just call it "Crack Bread!"
And why is it SO addictive? Amazing sourdough bread with two types of cheese and fresh herbs. And Chef Shamy Garlic Butter.
To recap: Bread. Cheese. Herbs. Garlic Butter.
No wonder it's called Crack Bread.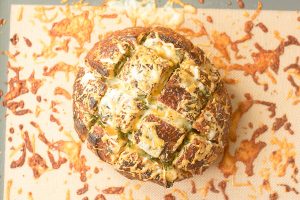 The Ingredients
Because there's not much actual "cooking" in this recipe, it's important that the ingredients are top notch.
We've already talked about the Garlic Butter. It's important and delicious.
I recommend sourdough bread. I love sourdough. It has a great texture and taste, and a great crust. I really appreciate bread with a good crust.
This recipe calls for three different fresh herbs: basil, rosemary, and thyme. Don't skimp on the herbs. Get them fresh. Fresh herbs have such a different flavor than dried. If you don't like one of those herbs, replace it with something else that you think would be good.
The cheese.
THERE IS NO SUCH THING AS TOO MUCH CHEESE.
I'll shout it until the day I die.
We used cheddar and mozzarella. Don't be stingy with it, and add any other cheese that you think would taste good.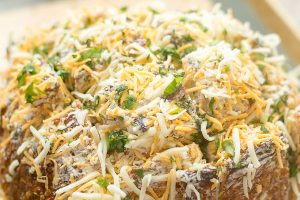 Delish
This is the perfect bread to a party as a tear and share. It's great for a family dinner with soup. Or it's a nice lunch to eat all by yourself.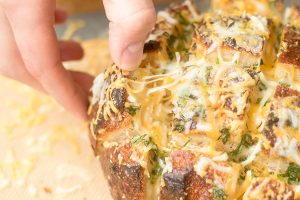 Seriously, we have too many good pics.
Enjoy!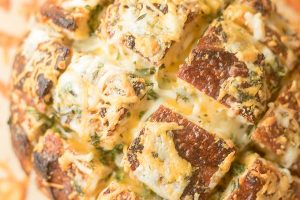 Cheesy Garlic Herb Pull Apart AKA Crack Bread
Course: Snacks, Sides
Ingredients
1 sourdough or artisan loaf

1 T fresh basil, chopped

½ T fresh rosemary, minced

½ T fresh thyme, minced

¾ cup shredded Mozzarella cheese

¾ cup shredded cheddar cheese
Directions
Preheat oven to 350° F
Use a bread knife to cut the bread into 1 inch squares. Crust all the way down to the bottom crust, but not through it.
Drizzle melted Garlic Butter down in the cracks and crevices of the bread. Stuff basil, rosemary, and thyme evenly throughout the bread. Then evenly spread the cheese over and into the bread.
Wrap the entire loaf in foil and bake at 350° for 15-20 minutes. Remove foil and bake an additional 5 minutes.
Serve immediately