Parmesan Cheese & Basil Garlic Butter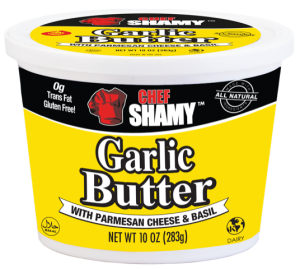 A little savory, a little sharp, Chef Shamy Gourmet Parmesan Basil Garlic Butter is the perfect addition to your dinner table. This well-seasoned butter is the perfecting finishing touch to any dish of any difficulty level. Mix in our delicious parmesan basil garlic butter with pasta, vegetables, meat dishes, rice, dinner rolls and much more.
We know that with one taste of our Parmesan Basil Garlic Butter, you'll fall in love. Made with precision and care, our garlic butters will quickly become a staple in your kitchen. If you're looking for the best place to buy garlic butter online, Chef Shamy is the place for you.
Chef Shamy's gourmet garlic butter is made without extra preservatives or chemical add-ins, guaranteeing you both a delectable and natural butter. They contain neither rbSTs (growth hormones) nor MSGs. All of our products are also gluten-free, kosher and halal, so people participating in all diets can enjoy our butters. You can feel confident that your family gets only the most flavorful, nutritious seasoned butter available.
Recipe Ideas
The aromatic basil adds brightness to the nutty parmesan and savory garlic to create contrast to noodle, veggie, and meat dishes. They also pair with unexpected dishes, such as pizza, frittatas and even hamburgers.
If you're looking to add that little extra something to any dish, Parmesan Basil Garlic Butter is a great option for you and your family. The beauty of Chef Shamy's garlic butter is that it pairs perfectly with any meal.
If you're in search of inspiration for your next meal, look no further. We recommend using the Parmesan Garlic Butter in some of the following recipes:
Buy Parmesan Cheese & Garlic Butter Today
Are you ready to finally try our mouthwatering garlic butter? You can either buy it online or purchase it in selected stores.
Recipes
Find a Store
Buy Online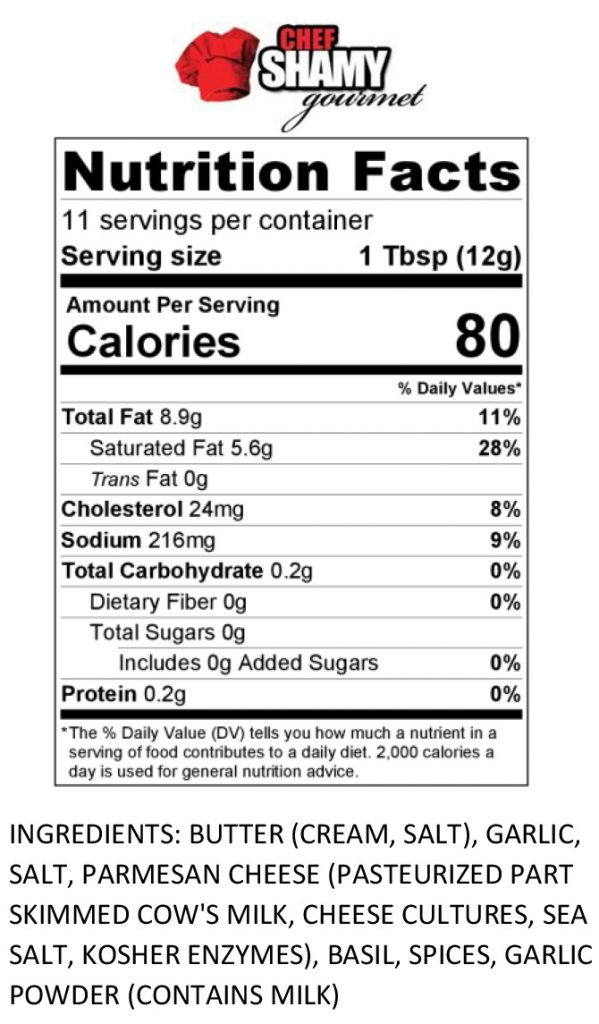 Recent Recipes
Keto This delicious Egg Roll in a Bowl recipe is keto-friendly! That means that there are no carbs! Not only that, it's packed with protein and vegetables, while tasting amazing. That's the keto way! Keto is a shorter way to say "ketosis." This diet stresses the importance of putting your body into ketosis, which forces …
Read More »
Grilled Cheese Grilled Cheese is an American favorite, and a Chef Shamy tradition! We love to introduce people to our Fresh Churned Garlic Butter through the grilled sandwich. We've made a lot of different variations– and here's the new one: Basil Prosciutto Grilled Cheese. It's still a classic grilled sandwich– bread and melted cheese. But …
Read More »