Chicken on the Grill
I love summer for a lot of reasons, but one of the main ones is cooking stuff on the grill outside! There's nothing like it. No inside grill tastes the same. Grilled chicken is one of the trickier foods to cook this way, but have no fear! Chef Shamy is here!
As long as you have a good recipe and a meat thermometer, you'll be okay.
And this is a stellar recipe!
I prefer chicken thighs to chicken breasts for a number of reasons. The first is that I like the taste of dark meat better. Also, thighs are a little more forgiving to the cook. They don't dry out as fast.
This recipe calls for boneless chicken thighs, mostly because they cook faster. Any meat with bones takes longer to get done in the middle. On a grill, it's better to get things cooked quicker, so the outside doesn't burn.
Spicy
Speaking of burning, let's talk about spicy food. I like food to have some kick, but not so much that it destroys the flavor. The blend of spices here is perfect– it's enough to let you feel it, but it doesn't numb your tastebuds.
One of the great things is you can control your own level of heat– if you don't like things as spicy, just sprinkle less of the spice mix on your chicken while it's cooking.
One thing is for sure: the seasoning combined with Chef Shamy Garlic Butter is delicious! You won't have grilled chicken any other way!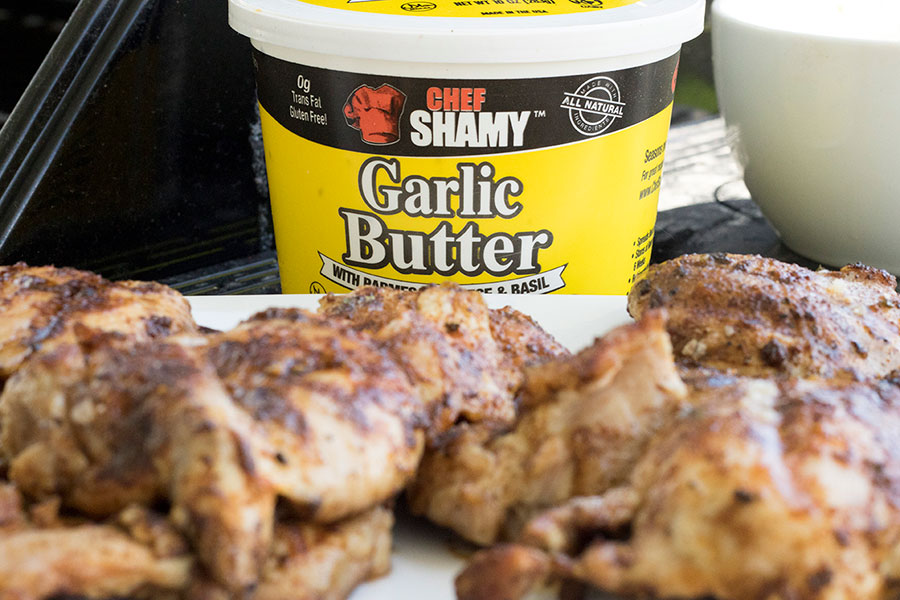 Cooking Chicken
Earlier I mentioned a meat thermometer. It's always a good idea to cook meat with a thermometer, just to make sure the inside is done. It's especially important with chicken. Even slightly under cooked chicken can wreak havoc on your stomach.
Chicken must be cooked to an internal temperature of 165° F or 75 ° C.
Perfectly cooked chicken is one of life's most delicious pleasures. Add in the fact that it's grilled, and that there's Garlic Butter on it– well, it doesn't get much better than that!
Enjoy!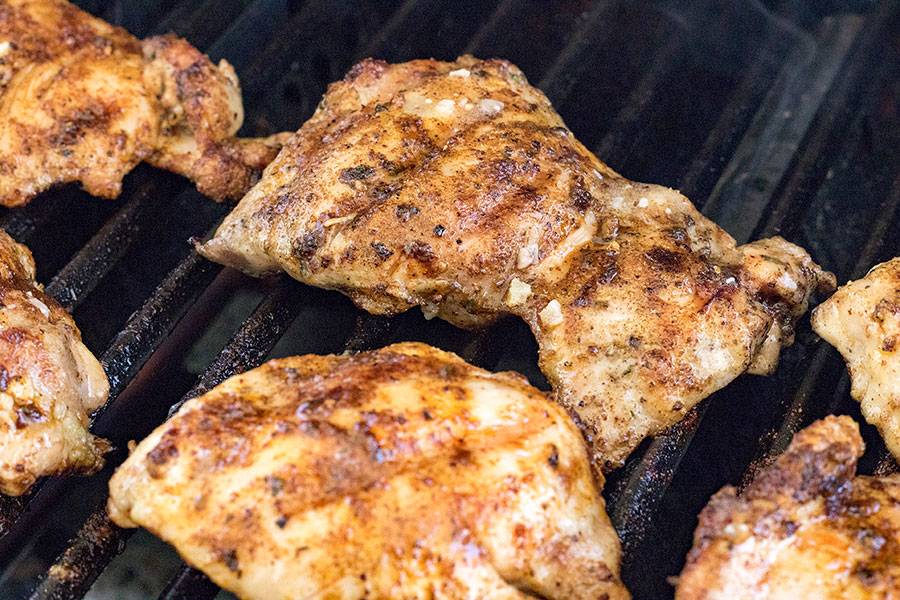 Spicy Grilled Chicken
Course: Lunch, Dinner
Ingredients
½ cup Chef Shamy Garlic Butter, melted

1 tsp chili powder

2 tsp paprika

1 tsp cumin

1 tsp ground thyme

¾ tsp salt

½ tsp pepper

2 lbs chicken thighs (skinless, boneless, and trimmed)
Directions
In a small bowl, mix together paprika, chili powder, cumin, thyme, salt, and pepper.
Place chicken thighs on grill over medium heat. Baste generously with melted Garlic Butter, then sprinkle spice mix over top. Cook 5-6 minutes, then flip.
Baste again with Garlic Butter, and top with remaining spice mix.
Cook an additional 5-6 minutes.
Chicken should reach an internal temperature of 165° F.
Serve immediately.