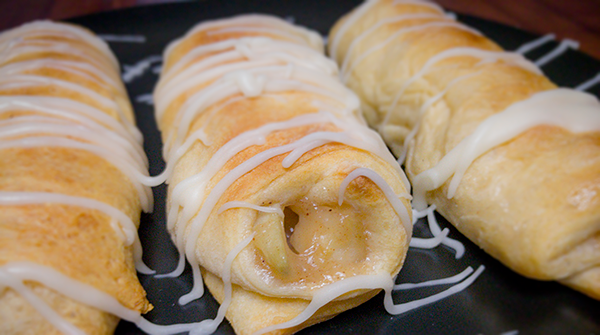 Honey Butter Apple Pie Rollups
Prep time:
Cook time:
Total time:
Ingredients
2 Tablespoons Chef Shamy Cinnamon Brown Sugar Honey Butter
4 Tablespoons Chef Shamy Vanilla Buttercream Frosting
6-8 Granny Smith Apples (diced to about ¼ inch)
¼ Teaspoon Nutmeg
¼ Cup Flour mixed with ¼ Cup Cold Water
2 full sheets crescent dough
Instructions
Preheat Oven to 375°
Melt butter over high heat in hot pan, add the apples and nutmeg, stir. Then add the flour slurry. Mix well and cook apples down until tender all the way through.
Put a little flour on a cutting board and roll out the dough sheets. Cut dough sheets into four equal parts.
Divide the apples into 8 equal parts and place on each piece of dough and then roll them up!
Spray or butter a cookie sheet and carefully place all the rolls on the cookie sheets. Cook for 15-18 minutes until dough is cooked all the way through and is golden on top. Enjoy!