No Bake Cheesecake
Our new Chocolate Strawberry Cheesecake is absolutely delicious! There's a special place in my heart for no bake cheesecakes. Growing up, my mom always made them and they were always so good! They're creamy and smooth — and this one is no exception.
This dessert is perfect for a special occasion: Valentine's Day, birthdays, or anniversaries. Chocolate and strawberry is a classic combination, equal parts sweet and tart.
Now that we've established how tasty it is, let's talk through the process.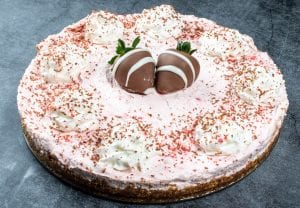 Chocolate Crust
The crust for this cheesecake is simple: only two ingredients. Graham cracker crumbs and our delicious Fresh Churned Chocolate Butter. You can buy graham crackers and smash them into crumbs yourself. Put them in a bag and use a rolling pin to make crumbs — it's kind of fun! Or you may be able to find already made crumbs at your store.
Stir in some melted Chocolate Butter– it adds a delicious chocolatey sweetness while adding the moisture and fat necessary to hold the crumbs together. Pour the chocolate crumbs into a cheesecake pan and use a measuring cup to press it firmly into a crust.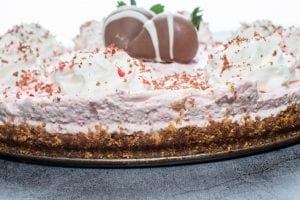 Strawberry Cheesecake Filling
The main ingredient in cheesecake is, of course, cream cheese. We're also adding some icing sugar for sweetness and heavy cream to keep it light and fluffy. For flavor, we're adding strawberry two different ways: pureed strawberries and freeze dried strawberry powder. You need both to create maximum flavor.
Pour the filling into the pan and allow it to set in the fridge overnight. Decorate with chocolate shavings, whipped cream, and chocolate covered strawberries — and enjoy!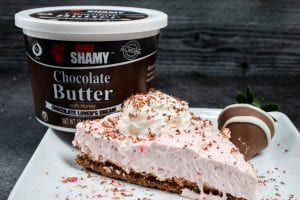 No Bake Chocolate Strawberry Cheesecake
Course: Dessert, Sweets
Ingredients
For the cookie crust

1 ½ cups graham cracker crumbs

4 oz Chef Shamy Chocolate Butter, melted

For the filling

1 cup fresh strawberries hulled

16 oz cream cheese, room temperature

1¼ cup icing sugar

2 tsp vanilla extract

3-4 T freeze-dried strawberry powder

1 cup heavy cream

Chocolate covered strawberries, chocolate shavings, whipped cream, etc. to decorate
Directions
To make the crust, mix graham cracker crumbs and melted Chocolate Butter together until well combined. Press mixture into the bottom of a cheesecake pan. Chill for 20-30 minutes.
Meanwhile, make the filling. Use an immersion blender or a regular blender to puree the strawberries. Mix pureed strawberries, cream cheese, icing sugar, vanilla extract, strawberry powder and heavy cream until completely combined and creamy.
Pour mixture into pan and put in the fridge to set overnight (at least 8 hours). Decorate with chocolate covered strawberries, chocolate shavings, and whipped cream.