Pinwheels
Pinwheels are fun snacks! They're great for kids, and they're great for adults. And they're really easy to make. A pinwheel is just filled dough that's rolled up so you can see a spiral made of the filling. And the great thing is, you can change the filling based on your preference.
These pinwheels are filled with ham and Swiss, and honestly, I don't know that I would ever change it. Ham and Swiss go together SO well (and Swiss is one of my favorite cheeses). It's important that you buy a higher quality ham though, or you won't be impressed. I went to the deli counter in my local grocery store and asked me to slice some for me. I just think it's fresher and better tasting than the stuff that's pre-packaged.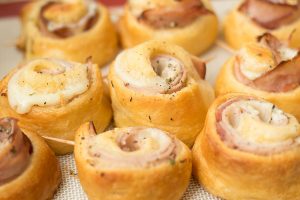 Garlic Butter
You know the drill about Chef Shamy Parmesan Basil Garlic Butter. It's real butter, full of garlic, basil, and Parmesan cheese, and it makes everything taste better.
Sometimes when I'm writing these recipes, I think, "Does just painting some Garlic Butter on top really add that much flavor?" Yes. It does. These pinwheels wouldn't taste nearly as good without the garlic butter. So don't forget it!
It's best the take your butter out of the fridge and let it come to room temperature before spreading it on top. If it's straight out of the fridge, it won't be spreadable, and if it's melted all the way it falls right through and makes the bottoms greasy.
Garlic Butter is the best.
Enjoy!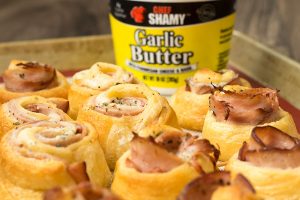 Garlic Ham and Swiss Pinwheels
Course: Sides
Directions
Preheat oven to 350° F
Lightly flour your counter or board and unroll tube of crescent rolls. Separate sheets in into rectangles. Seal the perforations by pinching them.
Top with ham and cheese.
Starting with a short side, roll up each rectangle. Cut each roll into 4 pinwheels.
Place pinwheels on a greased baking pan
Brush melted Garlic Butter on the tops of each pinwheel.
Bake at 350° for 12-15 minutes, or until golden
Optional: Brush additional melted Garlic Butter while warm