Doughnut Holes
Doughnut holes are a special thing! Sometimes I crave them, and nothing else will satisfy the itch. But doughnuts are bad for you. Like really not good for you. Luckily, these Cinnamon Doughnut Holes are baked! So all the guilt you feel about eating fried dough can fly out the window!
When I was little, I always wanted to eat the doughnuts with powdered sugar. They were delicious and they made a mess, so they were fun to eat.
But my tastes have changed. I still like powdered sugar, but now I love Cinnamon Sugar even more!
The Cinnamon Sugar ones, perfectly balanced, and perfectly bite-sized!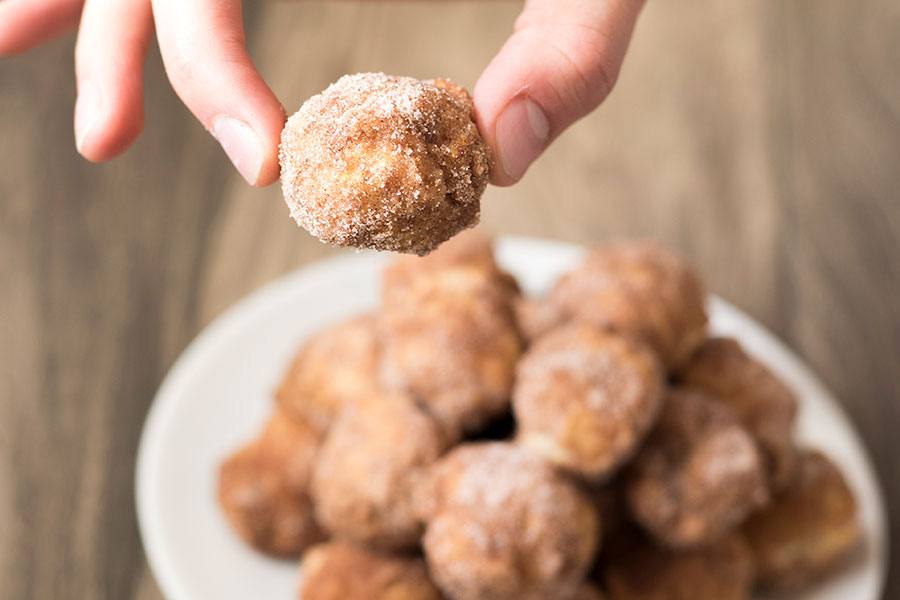 Cinnamon Sugar
Chef Shamy Cinnamon Brown Sugar Honey Butter is used twice in this recipe: once in the doughnut dough itself, and once for dipping. I like having it both places! It really kicks the cinnamon flavor up a notch.
I love Cinnamon, so I really go to town with the cinnamon sugar mixture. But you're in control of your own baking; you can be as generous or not with your own sprinkling.
Just a side note: if you really like the heat of cinnamon, try using Saigon Cinnamon– it's more spicy!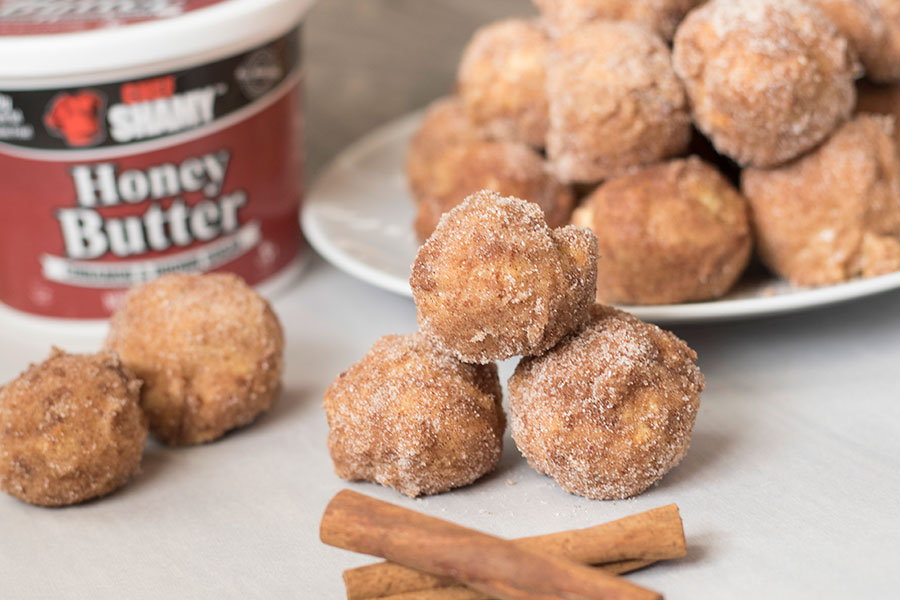 Method
As I mentioned, these Doughnut Holes are baked. You can achieve the perfectly size by using a mini muffin pan. Not only does it give you the perfect size, it helps keep the dough circular as it bakes.
Within the confines of your mini muffin pan, you can make them as big or small as you want. I like to make mine just small enough to be one bite, but just barely small enough.
If you don't have a mini muffin pan, get one! They're inexpensive, and you can also make these!
Enjoy!
Baked Cinnamon Doughnut Holes
Ingredients
For the dough:
2 cups flour
2 T sugar
4 ½ tsp baking powder
½ tsp salt
1 cup milk
1 egg
¼ cup (4 T) Chef Shamy Cinnamon Brown Sugar Honey Butter, melted
For the Coating:
4 T Chef Shamy Cinnamon Brown Sugar Honey Butter, melted
¼ cup sugar
2 tsp cinnamon
Instructions
Preheat oven to 400° F
In a large mixing bowl, whisk together flour, sugar, baking powder, and salt.
Add milk, egg, and Cinnamon Honey Butter and mix until combined. Mixture will be fairly thick.
Lightly grease a mini muffin pan, and spoon a teaspoon or two of dough into each mini well. (Remember they will rise in the oven)
Bake at 400° for 10-12 minutes.
Dough will make two batches of 24.
Allow doughnut holes to cool completely, then dunk them in the melted Cinnamon Honey Butter. Allow excess butter to drip off, then toss in the cinnamon sugar mixture.
Serve.
They will stay fresh to 3-5 days in a sealed container.