Chef Shamy Gourmet Cinnamon Brown Sugar Honey Butter is the perfect sweet, creamy concoction to make all your comfort foods a little more comfortable. A customer favorite, our Cinnamon Brown Sugar Honey Butter is great on any toast, scones, biscuits, French toast, crepes and pancakes, and sweet potatoes. For true foodies, you can try it in a flambé for fruits. Made with real butter and fresh honey, this all-natural gourmet treat has no added preservatives or flavors.
Recipe Ideas
While Cinnamon Brown Sugar Honey Butter is delicious on regular toast, you should try Chef Shamy butter with some of the following recipes. Our perfect blend of rich cinnamon and sweet brown sugar is guaranteed to thrill your taste buds.
Quick & Easy Scones
Fresh Fruit Fondue
California Cream Pie
Cinnamon Brown Sugar French Toast
Texas Sweet Dinner Rolls
Recipes
Find a Store
Buy Online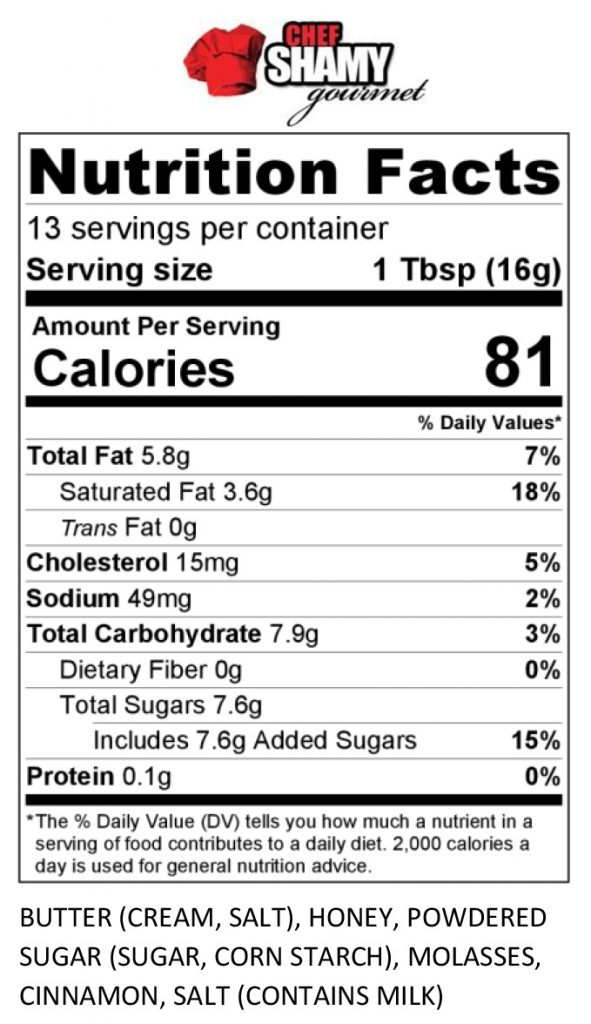 Honey or any food containing honey is not recommended for infants under the age of 12 months.
Recent Recipes
Keto This delicious Egg Roll in a Bowl recipe is keto-friendly! That means that there are no carbs! Not only that, it's packed with protein and vegetables, while tasting amazing. That's the keto way! Keto is a shorter way to say "ketosis." This diet stresses the importance of putting your body into ketosis, which forces …
Read More »
Grilled Cheese Grilled Cheese is an American favorite, and a Chef Shamy tradition! We love to introduce people to our Fresh Churned Garlic Butter through the grilled sandwich. We've made a lot of different variations– and here's the new one: Basil Prosciutto Grilled Cheese. It's still a classic grilled sandwich– bread and melted cheese. But …
Read More »