Strawberry Muffins
Muffins are great. But you know what's even better? Strawberry Muffins!
Muffins and berries go together like summertime and the beach. The most classic combination is, of course, blueberry muffins. But strawberry has got to be my favorite. Sometimes it's tricky to find strawberries that are good, but luckily, you don't only have to rely on the berries for that fruity flavor.
Chef Shamy Strawberry Honey Butter (which is made from strawberry juice) provides the other half of the fruitiness here. It gives the muffins a soft texture and a perfectly balanced flavor.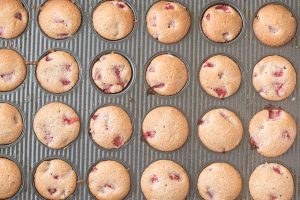 Mini Muffins
Making muffins mini is so much fun! I love eating smaller muffins for a couple reasons:
I can eat like 20 and not feel bad.
Mini Muffins are easy to store and grab on the go. I don't know how many mornings I'm looking for something small and manageable to take out the door.
 Reason #1 again.
Enjoy!
If you're really in a muffin mood, try these Vanilla Bean Blueberry Muffins!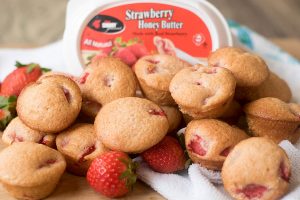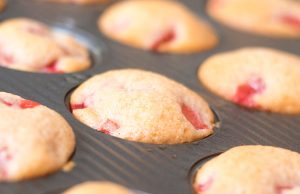 Mini Strawberry Muffins
Course: Dessert, Snacks, Sweets
Ingredients
2 cups flour, plus 2-3 tsp more for tossing with strawberries

2 tsp baking powder

¾ teaspoon salt

½ cup Chef Shamy Strawberry Honey Butter, melted

1 cup sugar

2 large eggs

1 tsp vanilla extract

½ tsp almond extract

½ cup milk

2 cups diced strawberries
Directions
Preheat oven to 375° F.
In a mixing bowl, whisk together flour, baking powder, and salt.
In a separate mixing bowl, cream together Strawberry Butter and sugar. Beat eggs, vanilla extract, and almond extract in.
Add half the milk, then half the flour and mix. Add the rest of the flour and the milk, taking care not to overmix.
Gently fold diced strawberries into the batter.
Divide the batter evenly between the wells of a greased mini muffin tin.
Bake at 375° F for 12-15 minutes, or until lightly golden brown and a toothpick comes out clean.
Allow muffins to cool before lifting them carefully out of the tin.
Serve with additional Strawberry Honey Butter.