Marinara Sauce
Marinara sauce is a classic Italian sauce made with tomatoes, garlic, herbs, and onions. Typically, it would be made with olive oil instead of butter, but I think that using Chef Shamy Parmesan Basil Garlic Butter adds even more flavor to an already classic recipe. This sauce is full of garlic and herb flavor– and the onions soak it up!
I've often wondered what the difference is between marinara and "spaghetti" sauce. Not much, it turns out. Spaghetti sauce is the American, processed version of marinara. So don't buy that stuff from the jar anymore. Make your own!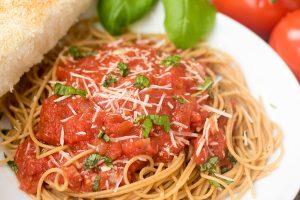 Pizza, Pasta, Breadsticks
There are so many ways to use marinara sauce. The most simple way is on pasta. Use it on spaghetti with a meatball, or paired with penne and Parmesan cheese. As much as I love pasta, I love sauce even more.
This recipe can also be used on a pizza. Of course, you've gotta have a good sauce, or it can ruin the whole pie! So spread this on your crust, top with cheese and pepperoni, and you'll have a classic Italian pizza!
Let's talk bread sticks. I'm a big fan– as long as I have a good sauce to dip them in. This is perfect for bread stick dipping!
Basically, what I'm saying is, make a big batch and use it as many different ways as you can think of!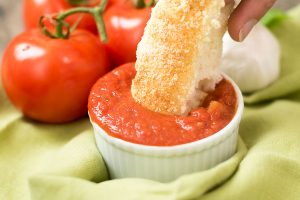 Some Notes
This recipe is very easy to make, and very quick! It's easy to double or triple if you're feeding a lot of people! Don't forget: people LOVE marinara sauce. You can never have too much.
Also, don't skimp on the fresh basil. Fresh basil is seriously in my top 3 favorite things in the entire world. It adds a great flavor to the sauce, and you'll be sad if you don't add a little chopped fresh basil on top!
Keep an eye on the sauce as it simmers. There's a fine line between boiling and simmering. We want simmering.
Enjoy!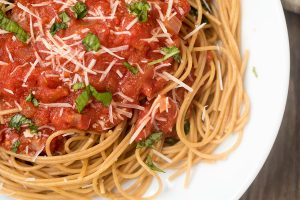 Homemade Garlic Marinara Sauce
Course: Sides, Sauces, Dinner
Ingredients
1 onion, finely diced

2 (28 oz) can crushed tomatoes

¼ tsp crushed red pepper flakes (or a pinch of cayenne)

3 tsp salt

½ tsp dried oregano

½ tsp black pepper

1 large sprig of fresh basil
Directions
In a large pan, melt Garlic Butter on medium high heat. Add onion and saute until translucent, about 5 minutes.
Add crushed tomatoes, red pepper flakes, salt, oregano, pepper, and fresh basil and cook until the sauce reaches a simmer.
Reduce heat to medium low and simmer 20 minutes.
Discard the sprig of basil, and season with additional salt and pepper, if needed.
Serve with pasta, bread sticks, or on pizza.