I LOVE PIE!
I do, I love it! I'll take pie over cake or cookies or any other sweet treat almost any day of the week! And I've always been this way– it doesn't matter if it's a fruit pie, or pumpkin, or chocolate mousse. And one of my hands-down favorite pies is a peach pie, because one of my hands-down favorite things in the whole world is fresh peaches. So when we made this Strawberry Peach Pie, I was in heaven!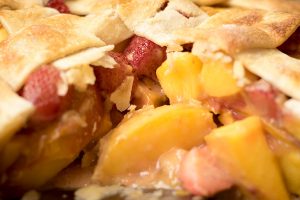 Strawberry 2 Ways
If there is any way to improve a peach pie, it's to add strawberry. We did that two different ways in this recipe. The first is slices of fresh strawberries. But we're getting out of strawberry season now, so you could use frozen if you had to. But use fresh if you can! The other is Chef Shamy Strawberry Honey Butter! It's made with real strawberries, and yes, you can taste it in the pie! Just put a couple of tablespoons on top of the fruit, and it will melt down in and add some delicious strawberry honey butter flavor! And with so much strawberry to compliment the peach, you're in for a punch of fruity flavor that you'll want to try again and again.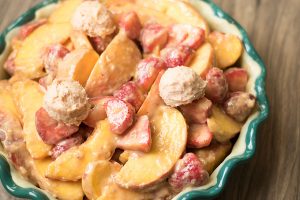 Quick and Easy Strawberry Peach Pie
This Strawberry Peach Pie is SO easy! Most pie fillings are– the hardest thing about this one is cutting the fruit, which doesn't take long at all! Usually the most difficult thing about pie is the crust, and I'll be honest here: we used store bought. And I really don't have any regrets. The filling was so good that I didn't even notice! But, if using a crust from the grocery store brings you shame, that's okay. If I have a whole afternoon, I'll make the crust myself too. Here's a recipe to get you started!
Another thing that isn't necessarily required, but that I like is doing a lattice pattern on the top crust. It makes it so pretty and decorative, and also allows you to show off the beautiful filling inside.
Serve this warm or cold and why not? Throw some vanilla ice cream on there, or *gasp* STRAWBERRY ICE CREAM!!! My mouth is watering.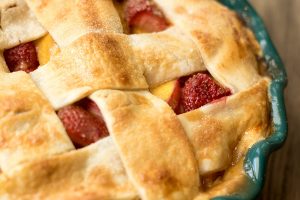 Strawberry Peach Pie
Strawberry Peach Pie | Chef Shamy
Course: Dessert
Ingredients
5 cups fresh peaches sliced peaches (about 5 peaches)

2 cups fresh strawberries, hulled and sliced

1/3 cup brown sugar

1/2 cup flour

1 tsp vanilla

2 Ready-made Pie Crusts

1 egg, beaten

Sugar, for sprinkling
Directions
Preheat oven to 350°
Grease a 8 or 9 inch pie plate and put in bottom crust
In a large bowl, combine peaches, strawberries, brown sugar, flour, and vanilla, making sure everything is well mixed
Spoon mixture into the bottom crust. Add 3 pats of Strawberry Butter over top of the fruit
Cut remaining crust into strips and make a lattice pattern on the top. Seal and trim edges.
Brush the top crust with beaten egg and sprinkle with sugar
Bake in 350 ° oven for 1 hour, or until the crust is golden brown and filling is bubbling
Serve warm or cold with a scoop of ice cream