Turnovers!
Have you had turnovers before? More importantly, have you made turnovers before? A turnover is a beautiful, light pastry. Once a filling has been put on the pastry, it is usually folded over and baked! They are delicious and an absolute ease to make! We've decided to stick with the season that's upon us and present Puff Pastry Cinnamon Apple Turnovers! Your family will love them! It's the perfect way to use Chef Shamy Cinnamon Brown Sugar Honey Butter. And there's nothing better than cinnamon and apples!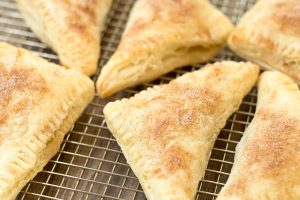 Puff Pastry
I absolutely love puff pastry. It's probably my favorite pastry! The layers of butter, dough, butter, dough creates is important when it bakes because the butter causes the layers of dough to separate, creating puff pastry's signature flakiness. The science of baking is fascinating, isn't it?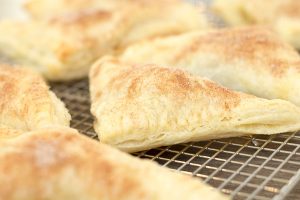 Everything I know about Puff Pastry I learned from The Great British Baking Show. One thing I do know that Puff Pastry is hard to make, and because of that, I always buy it. It's pretty easy to find. In my grocery store, it's in the freezer section next to the frozen breads and pies. Check it out; you can find all kind of fun pastries to work with! If you're getting your pastry from the freezer section, just make sure you give it time to thaw before working with it. Otherwise, it will break.
If you want to be adventurous, here's a Guide to Making Puff Pastry, by Mr. Paul Hollywood himself.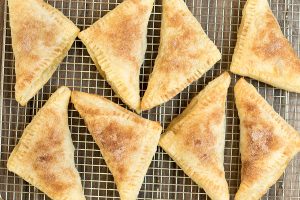 Apples
The best part of Apple Turnovers is the apple filling. There's a lot of discussion on the best apples to use in baking. I used Granny Smith. There are two tips I can give to help with your apple filling:
Grate the apples instead of chopping them. It helps to cook the apples better, because the turnovers aren't in the oven long. It also helps to fill up the space inside a little better. Otherwise you would only get a couple of apple chunks.
Squeeze any extra liquid out of your grated apples before you stick them in the pastry. If the filling inside is too wet, you'll either have leakage or the inside of the pastry won't bake all the way.
Here's our amazing Cinnamon Butter Lattice Apple Pie that you can enjoy this season too! Enjoy!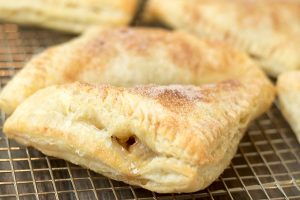 Puff Pastry Cinnamon Apple Turnovers
Course: Dessert, Sweets
Ingredients
2 boxes premade Puff Pastry

4 Granny Smith apples, peeled and grated

½ cup sugar

2 tsp lemon juice

¼ tsp salt

Cinnamon Sugar Mixture:

¼ cup sugar

1 T cinnamon
Directions
In a medium bowl, combine grated apple, sugar, Cinnamon Butter, lemon juice, and salt. Set aside.
Cut Puff Pastry into large squares. (You should get 4 per sheet). In the middle of each dough square, place 2-3 Tablespoons of apple mixture.
Brush two of the edges with apple liquid, then old over the dough into a triangle. Use a fork dipped in flour to press down and seal the edges.
Transfer the turnovers to a prepared baking sheet, and refrigerate for 30 minutes.
Meanwhile, preheat the oven to 375° F.
Make the cinnamon sugar mixture by combining cinnamon and sugar.
Take the turnovers out of the fridge and sprinkle with cinnamon sugar mixture.
Bake at 375° for 18-20 minutes, or until the pastry is golden brown.
Cool and serve.