Breakfast
Breakfast is the most important meal of the day. And it can also be the most delicious! Breakfast food is so eclectic!; there are so many different things you can serve for the first meal of the day! And waffles are one of my favorites. There's nothing better than a crispy on the outside, soft in the middle, homemade waffle. And on a cold fall morning, these Cinnamon Apple Waffles will really hit the spot! It's an apple waffle with tasty cinnamon apples on top! I've already made them again!
Waffles
Waffles are great because they're a pretty basic batter, which leaves you the opportunity to impart whatever flavors you want. And I can't think of many flavors that don't work in a waffle.
One of my favorite things is cinnamon, and one of the best things with cinnamon is apples. So during the fall season, I really enjoy myself. Putting apples in a waffle ended up being a great idea. It's a fairly subtle flavor, but with apples and applesauce in the actual batter mix as well as the cinnamon apples on top, it almost felt like an apple pie!
The secret to good cinnamon apples is, of course, Chef Shamy Cinnamon Brown Sugar Honey Butter. It provides a lovely sweet flavor from the brown sugar and honey. And there's just the right amount of cinnamon to satisfy any taste bud.
Add some whipped cream, a little syrup, and you've got an absolutely scrumptious breakfast!
Try making this caramel syrup to go alongside!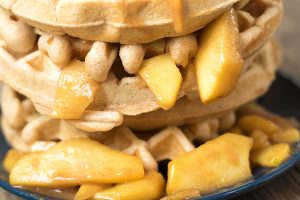 Apple Season
If nothing else, making apple waffles is an excuse to get apples at the right time of year. While it's pretty easy to find apples year round, this really is apple season! There's all kinds of fun varieties that are all inexpensive! I used Granny Smith for these Cinnamon Apple Waffles, because I love Granny Smith. Tart apples release a lot of sugar when they're cooked, so I thought they'd be the perfect thing to use for the cinnamon apples.
But use whatever you want, whatever you like, or whatever's on sale.
Enjoy!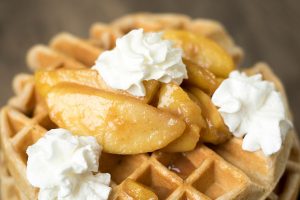 Cinnamon Apple Waffles
Course: Breakfast
Ingredients
Waffles:

2 1/2 cups flour

1 tsp baking soda

1 tsp salt

1 tsp ground cinnamon

1/4 tsp ground nutmeg

1 1/2 cup buttermilk

1/2 cup unsweetened applesauce

4 T Chef Shamy Cinnamon Brown Sugar Honey Butter, melted

2 eggs

1 tsp vanilla extract

1 apple, peeled & diced small

Cinnamon Apples:

3 -4 apples, peeled and sliced
Directions
In a large mixing bowl, combine flour, baking soda, salt, cinnamon, and nutmeg. Mix together. Then add buttermilk, applesauce, melted Cinnamon Honey Butter, eggs, and vanilla. Combine until just mixed together. Batter will be a little bit thicker than normal waffle batter.
Add diced apples and stir until incorporated.
Cook waffles according to the directions on your waffle iron.
Meanwhile, make the cinnamon apples. In a skillet, melt the Cinnamon Butter over medium heat. Toss the apples in the melted butter and keep over heat, stirring occasionally, until the apples are soft, about 5 minutes.
Serve waffles warm with some cinnamon apples, syrup, and whipped cream.