Butter Cookies
These Vanilla Bean Butter Cookies are in our Chef Shamy list of no-fail recipes. They're easy, delicious, and everyone loves them!
Butter Cookies fall somewhere in between shortbread and sugar cookies. They still have a high percentage of fat (butter) like shortbread, but there's additional ingredients like eggs, similar to a sugar cookies. And there's no raising agent (like baking powder) like a sugar cookie.
Taste and texture wise, they're in between as well. They're crisp on the outside like shortbread and really chewy on the inside like sugar cookies. Yum!
Easy Cookie Process
Cookies are notoriously one of the easier baked goods– the dough is pretty easy to make. And this recipe is no different.
We start with our delicious Fresh Churned Vanilla Bean Honey Butter, and a lot of it. Real vanilla beans give this butter a great flavor, and there's a twinge of sweetness from the honey. Cream the butter together with sugar until it's light and fluffy.
Mix in the egg, then add the flour and salt.
The dough will be soft, so you'll want it to go into the fridge for an hour or so. This allows the butter to harden slightly. This is an import step– don't leave it out!
Baking
Sometimes it can be hard to tell when cookies are fully baked. And these Butter Cookies can be tricky as well. The high butter content can mean that the cookies brown a little quicker than the typical cookie. But you don't want to over bake them, or they'll be stale and dry.
Look for a nice golden brown edge and a little color on top. Every oven is different, but when we made them, 9 minutes was the perfect time.
Enjoy!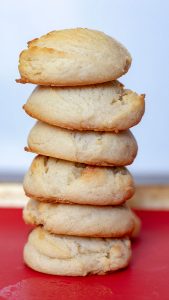 Vanilla Bean Butter Cookies
Course: Dessert, Snacks
Ingredients
1 cup sugar

1 egg

2 ⅔ cups all-purpose flour

¼ tsp salt
Directions
In a large mixing bowl, cream Vanilla Honey butter and sugar together until light and fluffy. Beat in an egg.
Add flour and salt, and mix until combine.
Refrigerate dough for 30-60 minutes.
Preheat oven to 400° F.
Use a cookie scoop to place dough on a greased baking sheet. Bake at 400° for 8-10 minutes
Allow to cool. Makes 2 dozen.