Quiche
Quiche (pronounced "keesh") is often overlooked, but when I make it, I'm reminded of how much I like it! Have you had quiche before? If you don't know what it is, or have never had it, it's a French dish. Quiche is an open crust pastry made with a filling of eggs and cream. But it's particularly popular in the United States as a party dish! You'll see miniature, bite sized quiches in the freezer section. A quiche without a crust is called a Frittata. This Deep Dish Ham and Cheese Quiche definitely has a crust, and man, it is delicious!  And it's absolutely a breeze to make!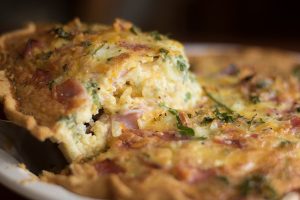 Easy Peasy
Is that how you spell "peasy?" I guess I've never tried before. Well, that's my attempt, so feel free to correct me! The point is, it's so easy to make a quiche that you'll find it on your menu more often than you think. If you have eggs and a pie crust, the rest of the ingredients can be just whatever you have in your kitchen! The beauty is that you can just mix everything together and let it bake– the oven does most of the work for you. And it refrigerates quite well, so make it a day ahead for breakfast. It will keep well for multiple breakfasts too!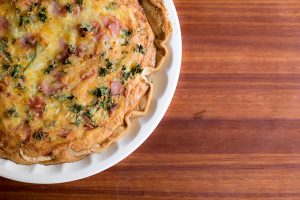 Let's Talk Cheese
I love cheese, you may have heard. A quiche is a great place to let cheese shine. You'll notice in our recipe, we've got three different kinds of cheese: cheddar, Parmesan, and Swiss. The lovely thing is that you can use whatever you have. There's no need to take an extra trip to the store to buy something special. Whatever is in your fridge will suffice. I wouldn't hesitate to throw in some Monterrey Jack, and I certainly wouldn't say no to some Pepperjack. Anything will be delicious– you can't go wrong; it's cheese!
If you like a homemade crust, start with this Short Crust Pastry Recipe!
If you like need some other great breakfast ideas, try our Cinnamon Honey Butter English Scones!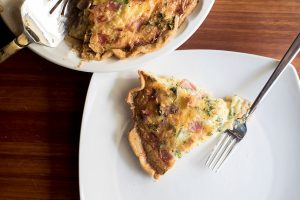 Deep Dish Ham and Cheese Quiche
*Photos courtesy of Stanford Investment Systems. All rights reserved.
Deep Dish Ham & Cheese Quiche
Course: Breakfast, Dinner
Ingredients
8 large eggs

1/2 cup chopped onion

1/2 cup shredded swiss

1 cup shredded cheddar

1/4 cup shredded parmesan

1 cup chopped ham

1 cup chopped parsley

1/2 cup heavy whip cream

1 tsp each salt, pepper, nutmeg

Deep Dish Pie Pan

1 ready to bake pie crust
Directions
Place 1 pie crust to one side of greased deep dish pie pan. Cut and paste 2nd crust to fill in. Poke air holes in crust. Bake 400° for 10 minutes
Whip cream, onions, spices & flour. Add eggs & whip, then add balance of ingredients except 1/2 cup of cheddar and parsley to sprinkle on top. Mix well. Pour into cooled pie crust
Sprinkle cheese and parsley. Bake at 350° for 1 hour. To check if it's done, wiggle the pan. It's done when the center doesn't jiggle
Cool 15 minutes before serving. Feeds 8 to 12 people