Breakfast
Crock Pot Breakfast Potatoes is an easy and delicious way to start the day!
We've heard many times before that breakfast is the most important meal of the day. You may have even read it in some our recipe posts on this very site. And it's true. Many times, our breakfasts can be full of sugar, which really is the wrong way to get your day started. Filling, nutritious foods help fuel your body for the activities of the day.
Breakfast potatoes are a great side dish (or full breakfast). Serve with some bacon or sausage, or some fruit, and you've got a delicious reason to get out of bed!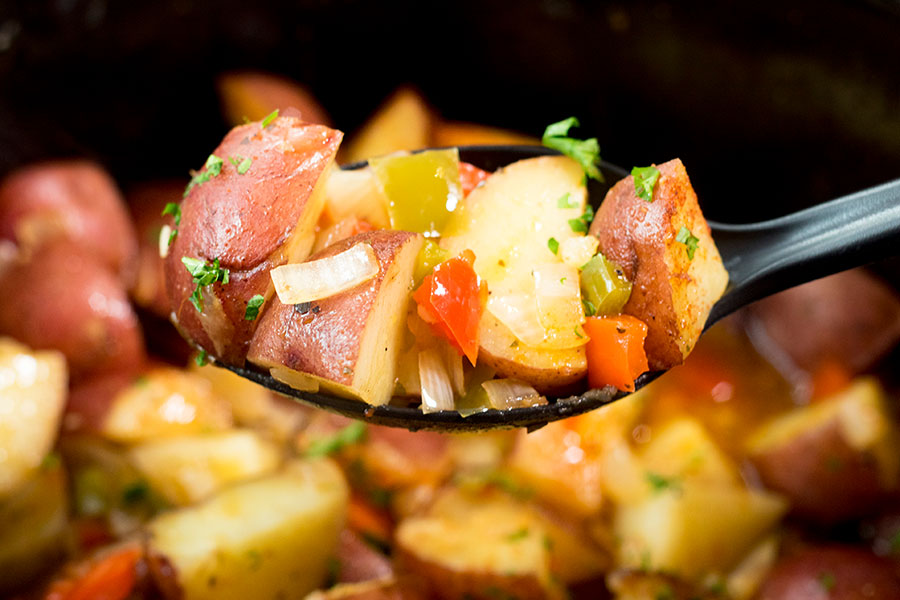 Crock Pots
With all the Instant Pot rage, crock pots have been shoved to the back burner. And yes, Instant Pots are cool, but sometimes the slow cooker really does the trick.
What I love about this recipe is that you can make it overnight. Especially if your slow cooker has a timer, you can set it to start a few hours before you get up, and your potatoes will be ready for you!
(By the way, slow cooker and crock pot is the same thing. Crock Pot is just a specific brand of slow cooker.)
As recipes go, this one is pretty easy. Throw some red potatoes, diced onion, and bell peppers into your slow cooker. Season with seasoning salt and paprika– then put a couple dollops of Chef Shamy Garlic Butter on the top.
As the potatoes and vegetables cook, the Garlic Butter will melt over the top and provide a delicious flavor!
Breakfast should be a joy– delicious and easy!
Enjoy!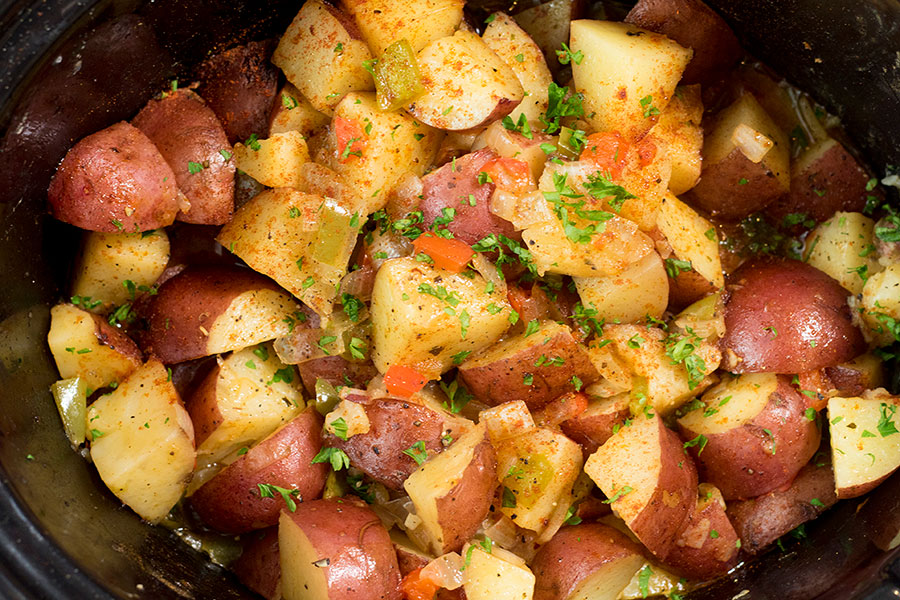 Crock Pot Breakfast Potatoes
Course: Breakfast, Sides
Ingredients
1 onion, diced

3 lbs red baby potatoes, quartered

1 red bell pepper, seeded and diced

2 tsp seasoning salt

2 tsp smoked paprika

Salt and pepper, to taste
Directions
Place onion, potatoes, and bell peppers in a slow cooker. Season with seasoning salt and paprika. Stir to combine, making sure everything is coated with the seasoning. Place 4 dollops of Garlic Butter over the top.
Cook on HIGH about 3 hours or LOW about 5 hours, or until potatoes are tender.
Season with extra salt and pepper, if needed.
Serve warm.