Vanilla
Vanilla is one of my favorite things. I love the taste, the smell, and everything in between. I have always used vanilla extract in my baking, which works. Vanilla extract is fantastic. But my life was changed when I was introduced to vanilla beans! They're weird, shriveled little pods with seeds of delicious-ness inside! So you can imagine how much I love Chef Shamy Vanilla Bean Honey Butter! It's made with real vanilla beans– one look at the butter tells you that. It has a great vanilla flavor, and it makes these Vanilla Bean Blueberry Muffins absolutely legendary!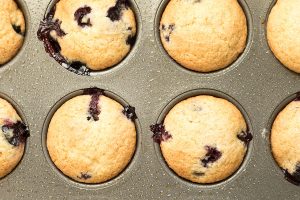 Muffins
Vanilla Bean Honey Butter is an essential item in any baker's pantry. Almost any sweet baked good has vanilla in it, and most things have butter. So why not combine them? It'll only be a matter of time before you just substitute Vanilla Bean Butter in everything that comes out of your oven.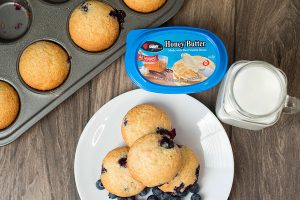 Muffins are a little bit of a mystery to me. Don't get me wrong, I like them. I'll have a muffin for breakfast, lunch, and dinner. But sometimes, I feel like we need to own up to what they really are: cakes in a muffin tin. Especially muffins from the store– they're so sweet! Blueberry muffins can often be the worse offender. They're sweet, spongey, and feel more like desserts than a breakfast item.
Luckily, these muffins actually feel like muffins. They're not overly sweet or cakey. They're perfect. The slight sweetness of the blueberries (not an inherently sweet fruit anyway) compliments the vanilla bean and light touch of honey from the butter.
Speaking of vanilla, here's a trick to making your own extract: Home made Vanilla Bean Extract!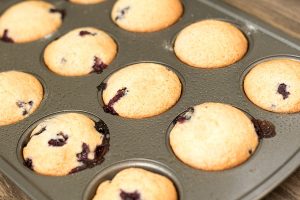 Vanilla Bean Blueberry Muffins
Vanilla Bean Blueberry Muffins
Course: Dessert, Snacks
Ingredients
1 1/2 cups flour

1/4 tsp baking soda

1/2 tsp baking powder

1/4 tsp salt

3/4 cup sugar

1 egg

1/2 cup buttermilk

1 cup blueberries, plus 1 T flour
Directions
Preheat oven to 350° F
In a large bowl, mix together flour, baking soda, baking powder, and salt. Set aside.
In a separate bowl, cream together Vanilla Bean Honey Butter and sugar. Add egg and buttermilk and mix until smooth.
Combine the dry ingredients into the wet ingredients and mix until just combined.
Mix blueberries with 1 T of flour, until the blueberries are lightly coated.
Gently fold blueberries into the batter with a spatula or spoon.
Lightly grease a muffin tin and scoop batter evenly into the 12 muffin tin wells. They should be about 3/4 full.
Optional: sprinkle a little sugar over top each one.
Bake at 350° for 20-23 minutes. Muffins should be light golden and spring back to the touch.
Allow to cool and serve.