Krispie Treats
Marshmallow Krispie Treats are a childhood favorite for all, and an adult favorite for many! It's hard not to love them, when they're so easy to make and are so delicious! You can do a lot of different things with them. You might have made our Caramel Cinnamon ones before– they're amazing. In honor of love, Valentine's Day, and spring, we thought we'd make these Strawberry Krispie Treats, and they really hit the spot!
They're flavored with our amazing Fresh Churned Strawberry Honey Butter. It's fruity and sweet, and compliments the marshmallows really well. We went the extra mile and cut them into heart shapes, then went another extra mile and dipped them in white chocolate! Strawberry and white chocolate together: yes please!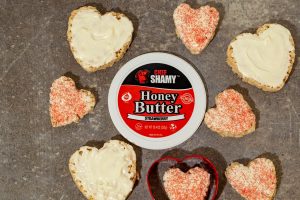 The Process
If you've never made these things before, that's okay. You can find them at the store really easily, but I always think homemade is best.
Melt some Strawberry Honey Butter in a pot, then add a bag of marshmallows. They can be big or small, it doesn't matter. As long as they're marshmallows, and as long as they're soft. Stir gently so the sugar doesn't burn, and so that wonderful strawberry flavor is in every bite.
Once the marshmallows are mostly melted (it's can be a slow process), stir in 6-7 cups of rice cereal and mix.
When everything is combined, press the mixture onto a cookie sheet. We use a cookie sheet here instead of a 9×13 pan. They are a little thinner, and you get more hearts that way.
Now for the white chocolate.
White Chocolate
White chocolate is famously difficult to work with. Because of the high sugar content (and little chocolate content), it can be very hard to melt without burning.
Place some white chocolate in a bowl, along with a teaspoon or two of avocado oil. Microwave it 10-20 seconds at a time, stirring after each time. Once the chocolate is mostly melted, you can stir it to melt the rest of the way.
Then, dip your heart shaped treats into the white chocolate, and allow to set. Unless your kitchen is really hot, the chocolate should set after a few minutes. We sprinkled some simple red sprinkles on the chocolate, for a Valentine's Day effect. Color is always fun, so sprinkle what sprinkles you have!
Enjoy!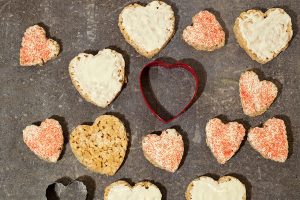 White Chocolate Dipped Strawberry Krispie Treats
Course: Dessert, Snacks
Ingredients
1 bag marshmallows

6-7 cups rice cereal

8 oz white Chocolate

1 tsp avocado oil

Red sprinkles
Directions
In a large pot, melt Strawberry Honey Butter and marshmallows over low heat, stirring constantly.
When melted, add rice cereal, and stir to combine completely.
Press mixture onto a greased cookie sheet, and allow to become firm.
Use a cookie cutter to cut into heart shapes.
Meanwhile, place white chocolate and avocado oil in a microwave safe bowl. Microwave 10-20 seconds at a time, stirring between each time.
Dip hearts into white chocolate and top with sprinkles.
Allow chocolate to set at room temperature, then serve.