Rice Krispie Treats
Rice Krispie Treats are a classic– everyone ate them as kids, and for many, they were a favorite! They're soft, chewy, and sweet. I love marshmallows, so Rice Krispie Treats were always a go to for me. You can buy them, and the store-bought ones definitely get the job done. But they're so easy to make! There's no reason not to! The great thing about making treats at home is that you can customize the flavors a little bit, and make sure everything tastes the way you want it to! You'll go crazy for these Caramel Cinnamon Rice Krispie Treats!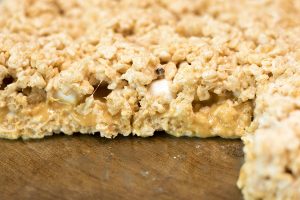 Cinnamon?
We love putting our Honey Butters in Rice Krispie Treats: See our Chocolate Strawberry Rice Krispies here!
But Cinnamon Butter? Everyone I've told about this have been skeptical, but when they taste it, they're blown away! Using Chef Shamy Cinnamon Brown Sugar Honey Butter is a no-brainer for rice krispies! It's a subtle cinnamon flavor with a kick of sweetness from the honey. It's a heavenly match.
So we decided to take it a step further and add caramel. Cinnamon and caramel are delicious together! Just melt down some soft caramels with a little sweetened condensed milk and you've got a smooth, silky caramel sauce to put in the middle of your Cinnamon Rice Krispie Treats!
You can buy soft caramels at the store, or find a local candy maker to sell you caramel. My go to is Julieann Caramels. They're so good! I'm sure you can find someone local to make your Rice Krispie Treats even more spectacular!
Enjoy!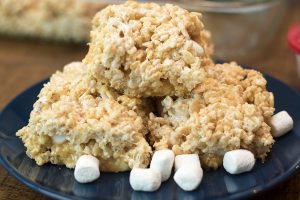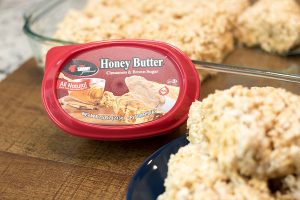 Caramel Cinnamon Rice Krispie Treats
Course: Snacks
Ingredients
Rice Krispie Treats:

10-11 cups mini marshmallows

10 cups rice cereal

Caramel:

14 oz soft caramels

1 can sweetened condensed milk
Directions
In a large bowl, melt together butter and marshmallows, then stir in rice cereal.
In a greased 9×13 pan, spread half the cereal mixture, and press down.
To make the caramel sauce, melt caramels and with sweetened condensed milk on low heat, until smooth and creamy.
Pour caramel sauce over cereal mixture, then spread the rest of the cereal mixture on top.
Allow to set in the fridge, then serve!