Holiday Grilled Cheese
This time of year, turkey and cranberry reigns supreme. So a Turkey Cranberry Grilled Cheese Sandwich feels like a natural fit. It's a great way to use any leftovers from Thanksgiving or Christmas.
But let's the honest, you can make this any time of the year. And believe me, you'll start craving it sometime in the spring, so you'll have to to scrounge up the ingredients and make yourself one.
So let's talk ingredients.
What makes our grilled cheese sandwiches special is Chef Shamy Garlic Butter. Spread it on the outside of the sandwich and it's transformed into the best grilled cheese you'll ever have!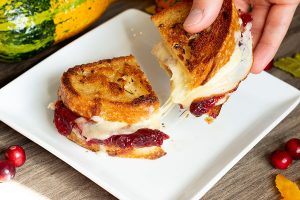 Turkey
This sandwich is a great way to use up leftover turkey from the holidays– nothing is better. Are you a dark meat or white meat person? Let the fighting begin.
Thankfully, it doesn't matter because either will work here. And if you don't have leftover turkey, you can easily buy some at your grocery store deli. Thin slice or thick slice– whatever you like.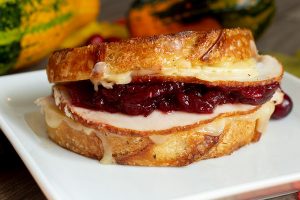 Cranberry
Cranberries are a tricky little fruit. They're very tart– but when made into a sauce, they're absolutely delicious. Perhaps you have your own family recipe for cranberry sauce. Or maybe your buy it, or ask your sister-in-law to bring it. Or maybe you buy the jelly stuff in the can.
Anything works! This Turkey Cranberry Grilled Cheese is a pretty low-maintenance sandwich!
Enjoy!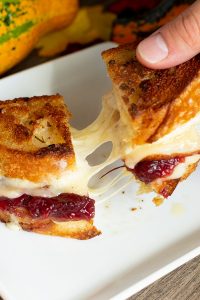 Turkey Cranberry Grilled Cheese
Course: Lunch, Dinner
Ingredients
4 slices sourdough bread

4 slices left over turkey

2 slices havarti cheese

2-4 T cranberry sauce, depending on taste
Directions
Spread Garlic Butter over the 4 slices of bread. Place bread butter side down on a griddle over medium heat.
Build sandwiches by adding turkey, cheese and cranberry sauce.
Once the bread is toasted, flip to make a sandwich.
Serve.