Grilled Cheese
We've made a lot of grilled cheese sandwiches. But this Apple Bacon Grilled Cheese is my all time favorite– so far!
Grilled cheese is something of an art– it's much more than some bread and some cheese. The proportion of ingredients are especially important– and even more so when you have a couple of unique additions!
Bacon goes with grilled cheese really well. But the apple might feel a little strange. Trust us on this one, it's amazing! The sweetness of the apple perfect compliments the saltiness of the bacon and cuts through the richness of the cheese!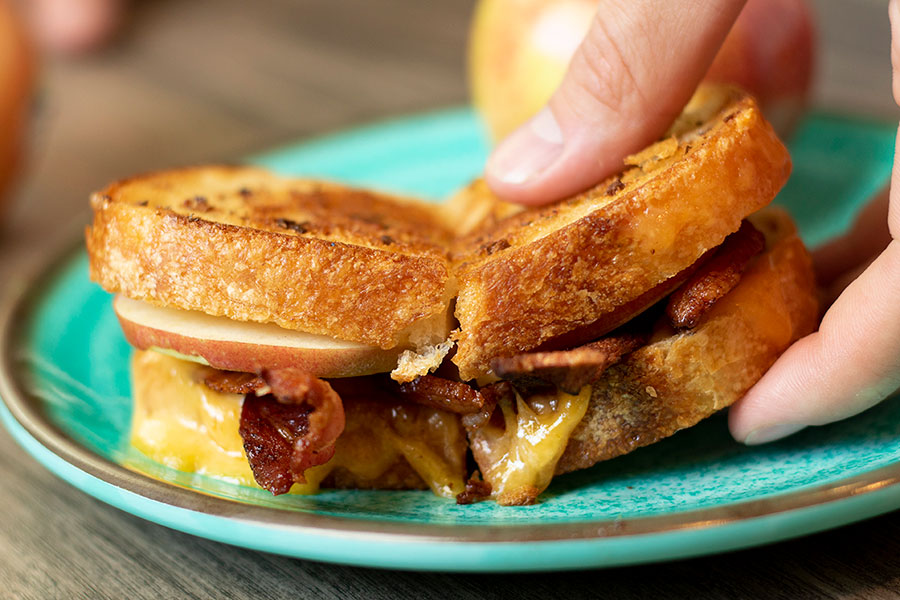 The Chef Shamy Grilled Cheese
The reason we love grilled cheese here at Chef Shamy so much is because of our Garlic Butter.
Using Chef Shamy Garlic Butter to toast the outside of the sandwich adds so much flavor! There's a punch of garlic, a little salt, and the hint of basil. And there's actually Parmesan cheese in there too!
You don't want to use too much, or the sandwich will feel greasy. A nice layer keeps the bread toasty and flavor fantastic!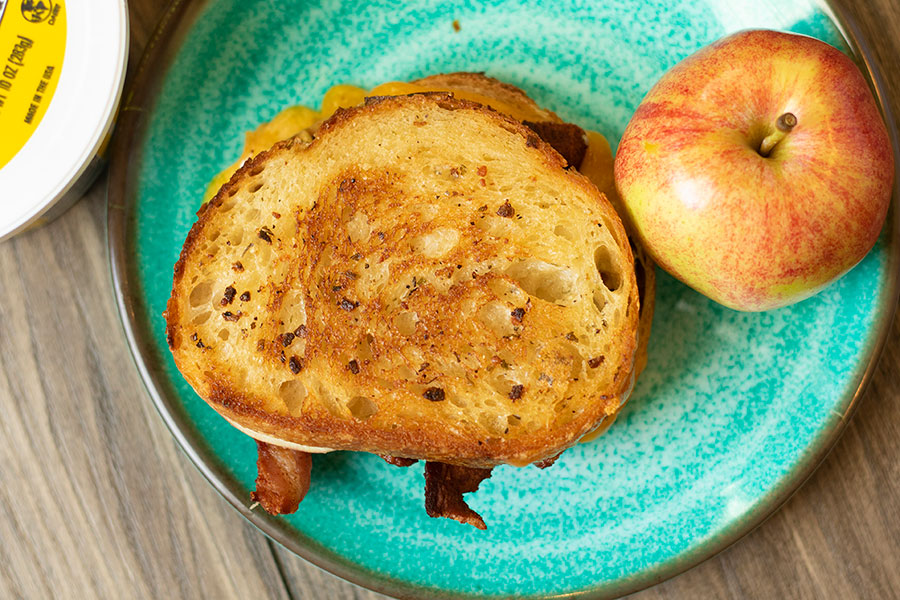 Proportions
So let's talk about making sure that you have each ingredient in just the right amount, in every bite.
The bread– regular slices of bread is fine. By the way, it's fun to experiment with different types of bread! Try this with sourdough or Ciabatta!
Cheese. Two decent slices of cheddar should do the trick. We used the pre-sliced medium cheddar you can find at your local grocery store.
Bacon: 3 thick cut slices, cooked to crispy perfection.
The curveball– the apple: Take two thin slices, about the thickness of a quarter. They need to be thin because they won't get cooked in the sandwich, and you don't want a big thick piece of apple in the middle. Also, a good apple has enough sweetness to shine through with thin slices.
Enjoy! Let us know if this Apple Bacon Grilled Cheese is your favorite too!
Apple Bacon Grilled Cheese
Course: Lunch, Snacks
Difficulty: Easy
Ingredients
2 slices bread

3 slices bacon, cooked

1 apple, sliced thin

2 slices cheddar cheese
Directions
Butter both slices of bread with Garlic Butter, spreading all the way to the edges. Place both pieces of bread on a griddle or frying pan, butter side down.
Put apple slices and bacon on one piece of bread, and the cheddar on the other piece.
Turn heat to medium. Once the bread is toasty and the cheese is melted, flip the bread with the cheese on top of the other slice to make a sandwich.
Serve immediately.