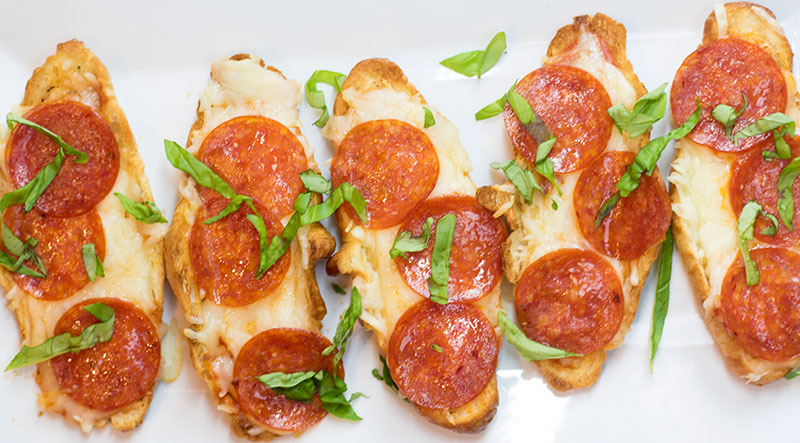 Croissant, Garlic Bread, Pizza!
I absolutely love croissants. They're flaky and buttery, soft and chewy– I could eat croissants all day every day. So it kind of makes sense to make them into garlic bread. It's delicious. Just spread a little Chef Shamy Garlic Butter each half and broil for about a minute.
Put pizza toppings on that garlic bread and you've got a Croissant Pizza! It's the perfect personal snack pizza. Or eat two or ten and call it a meal. The sure thing is, though, that it's quick, easy, and bomb dot com tasty!
Toppings Toppings
What do you like on your pizza? Are you an adventurer when it comes to toppings? Or do you prefer the classic Italian staples? That's one of the best things about Croissant Pizza; well, about pizza in general. Toppings are totally open to different tastes. We did the classic pepperoni and cheese when we made our Croissant Pizzas, but you could do whatever toppings you like. One thing I recommend though, regardless of the toppings, is FRESH BASIL.
Basil, the Perfect Croissant Pizza Herb
Not only does fresh basil add a lovely spot of color to Croissant Pizzas (or any dish really), it adds such a pop of flavor and freshness. But, you say, I have dried basil in my spice cupboard. Why should I buy fresh? Because it's worth it! Most grocery stores or supermarkets carry fresh herbs in the produce section, and basil is almost always one of them. Depending on the season, it may or may not be available, and the price can vary as well. But you can use basil in so many recipes, you'll always find a way to use it all.
If you've you got a green thumb, or just wish you did (like me), grow your own basil! You don't need a garden; herbs can grow successfully in a pot or window box. However you do it, basil is worth it.
Enjoy!
If you're a pizza fanatic, check out our Disneyland Copycat Pizza Cone!
Simple Garlic Butter Croissant Pizza
Course: Lunch, Dinner
Ingredients
6 Baked Croissants

4 oz pepperoni (optional)

2 cups mozzarella cheese, shredded

2 oz Pizza Sauce

6 fresh Basil leaves, cut in strips
Directions
Preheat oven to Broil
With a bread knife, evenly slice the croissants long ways. Spread a thin layer of Chef Shamy Garlic Butter edge to edge and place on a baking pan
Place in oven for 1-2 minutes or until butter has melted and edges are golden brown
Remove from oven and turn oven down to
Spoon 2 tablespoons or less of pizza sauce on each slice, then cover generously with cheese and pepperoni
Return to oven and bake an additional 8-10 minutes or until cheese is fully melted
Top with basil strips and serve warm