Ramen Noodles
Ramen noodles is a pantry staple for many. Others may wistfully remember those good ol' college days, slurping noodles on your dorm room bed. Our Sesame Ginger Garlic Ramen Noodles turns this crazy packaged food into a delicious meal!
Let's talk through the recipe– and while we do, discuss some ways to doctor up ramen.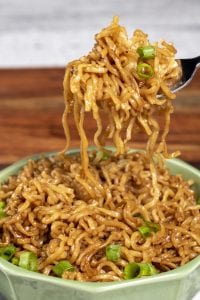 Sauce
We start our recipe by boiling the ramen noodles according to package directions– don't use the flavor packet though! We've got plenty of flavor coming in our sauce.
That's the first tip for upgrading noodles: a simple sauce.
Start with some of our Fresh Churned Garlic Butter. Add some fresh ginger, sesame oil, brown sugar, and sriracha (if you like spicy). Bring it all together and bam! You've got a sauce.
Douse those noodles in it– you'll want to douse yourself, it's so good.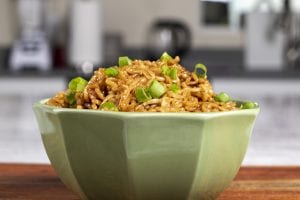 Meat and Vegetables
The other two ways to pimp up ramen noodles is to 1) add a protein, or 2) add vegetables. (Or both!) Add some rotisserie chicken, or some ground turkey.
Saute some veggies before tossing them in your sauce. You really can make this super inexpensive food taste amazing!
Enjoy!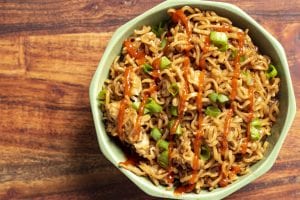 Sesame Ginger Garlic Ramen Noodles
Course: Dinner
Ingredients
2 (3 oz) packages Ramen Noodles, seasoning packet discarded

½ T fresh ginger, minced

1 tsp sesame oil

¼ cup low sodium soy sauce

1 tsp brown sugar

Sriracha, to taste

Chopped green onion, to garnish
Directions
Cook the ramen noodles (no seasoning packet) as directed on the package. Drain and set aside.
Melt Garlic Butter in a small skillet or saucepan over medium heat. Add ginger and cook until fragrant. Add sesame oil and cook for 1 minute.
Turn heat down to low, and whisk in soy sauce, brown sugar, and sriracha (if desired) until combined.
Toss noodles in the sauce.
Garnish with green onions, if desired.
Serve.