Lemon Bars
Lemon is one of my all-time favorite flavors. So naturally, lemon bars are one of favorite treats. And, honestly, I didn't think they could get any better. That was until we made these delicious Blackberry Lemon Bars. They're sooooo good!
They're incredibly flavorful, striking a nice balance between sweet and tart. The crumb is fluffy and the texture is moist. Plus, they're really easy to make. Let's briefly talk through the recipe.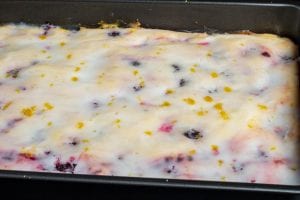 The Bars
The batter is a basic "blondie" recipe with a few tweaks. First of all, use our delicious European Style Butter — it's super creamy. Mix it with sugar and eggs.
Then add lemon juice; I can't recommend fresh lemon juice enough. The bottled stuff just doesn't have the same flavor.
Add your dry ingredients (flour, baking powder, salt) to your wet ingredients and voila: your batter is complete!
Fold in some plump, juicy blackberries. The batter is thick enough that you won't need to coat them in flour to prevent them from sinking. But make sure they don't have an extra moisture. The berries are already juicy, and you don't want soggy patches in your lemon bars.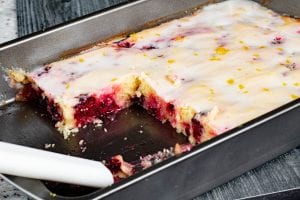 The Glaze
What really makes these bars taste lemon-y is the glaze. It's simple: lemon juice (fresh again) and powdered sugar. Make sure the bars have completely cooled from baking before spreading the glaze on, or it will disappear.
We garnished the tops of the bars with some fresh lemon zest, just because the yellow and purple look lovely together. Enjoy!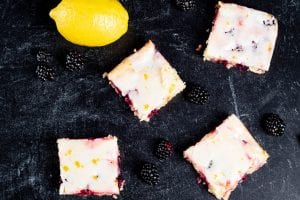 Blackberry Lemon Bars
Course: Dessert, Snacks
Ingredients
8 oz Chef Shamy European Style Butter, at room temperature

¾ cup sugar

2 eggs

⅔ cup fresh lemon juice

2¼ cups all purpose flour

1 tsp baking powder

½ tsp salt

12 oz blackberries, rinsed and dried

Glaze

4 T fresh lemon juice

2 cups powdered sugar
Directions
Preheat oven to 350° F.
In a large mixing bowl, beat European Style Butter and sugar together until light and fluffy. Add the eggs, and mix until just combined, then add lemon juice and beat until incorporated.
Whisk together flour, baking powder, and salt, then add to the wet ingredients. Mix until combined, but don't over mix.
Add blackberries and fold into batter with a wooden spoon or spatula.
Transfer mixture into a well-greased 9×13 baking dish and spread into an even layer.
Bake at 350° for 30-35 minutes, or until edges are golden and a toothpick inserted into the center comes out clean.
Meanwhile, make the glaze: Mix fresh lemon juice with powdered sugar until well combined.
Pour glaze over the completely cooled lemon bars. Spread evenly and allow glaze to set before cutting and serving.