Hasselback
These delicious Baked Apples are cut hasselback style. This way of preparing food originated with potatoes– it just means thinly sliced, but only halfway through. It works really well for potatoes: it creates perfectly cooked petals!
It makes total sense to do the same thing with an apple!
Slice the apple thinly, but don't cut all the way through. That way when it's baked, the slices spread a little and some of the delicious flavor can seep down into every bite.
The flavor here is, of course, Chef Shamy Cinnamon Honey Butter! Cinnamon and apple is a classic flavor combination, especially in the fall, and our Cinnamon Honey Butter has the perfect sweet cinnamon-y punch to compliment a ripe apple.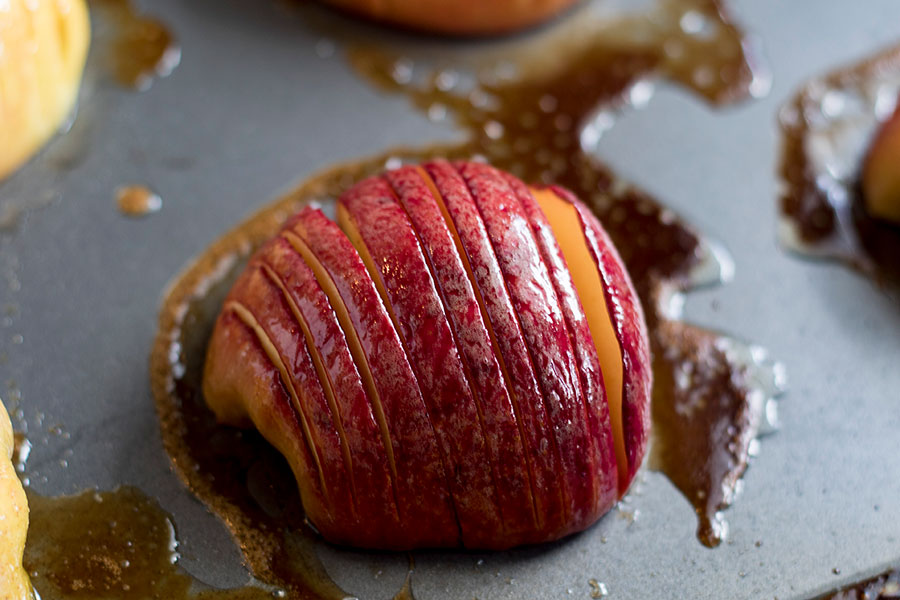 Apple Season
Baked apples are one of the best ways to enjoy the fall season. While apples are available in many varieties throughout the year, they're at their sweetest, most crisp, and best in the fall!
When I was growing up, we had an apple tree in our backyard. The apples were usually small, but for a couple of weeks in October, they were absolutely divine.
And while there are a lot of different varieties, baking apples are pretty straightforward. When it comes to baking, I try to stick with Granny Smith, Honeycrisp, or Pink Lady.
Granny Smith apples can be pretty tart, but in the oven, they'll release a lot of delicious natural sugars for an amazing flavor. Honeycrisp have a fantastic crisp texture, and Pink Ladys are really well balanced in flavor and texture.
The apples we made in these photos are Honeycrisp.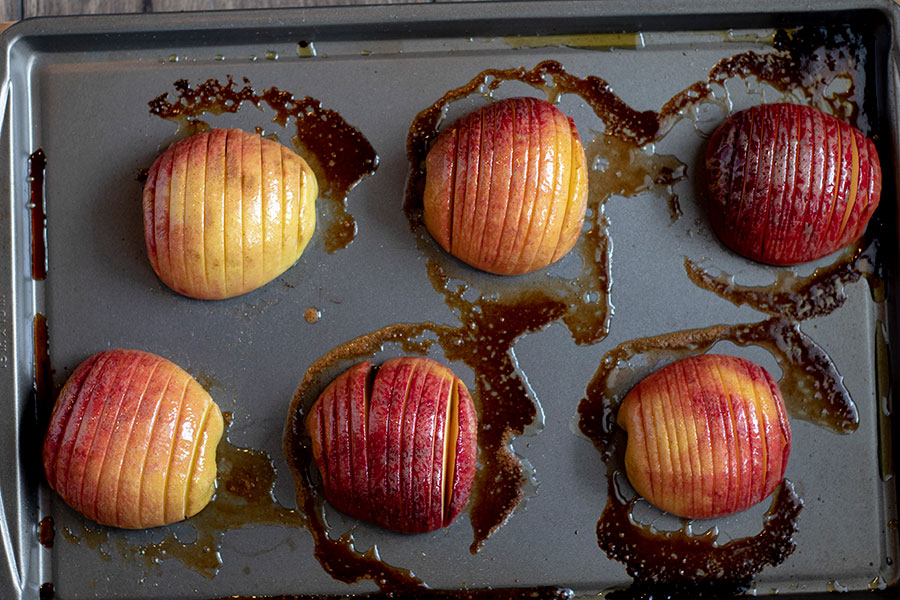 Healthy Dessert
It almost feels weird calling these Hasselback Baked Apples a dessert, but that's what it is! It's a great sweet treat because of how healthy it is!
There are two ingredients: apples, and Cinnamon Honey Butter. The honey butter does all the work– the butter, and the natural sweetness of the apple.
It's suggested to serve your apples with ice cream, but I've never thought of ice cream as a suggestion. More as a necessity.
Enjoy!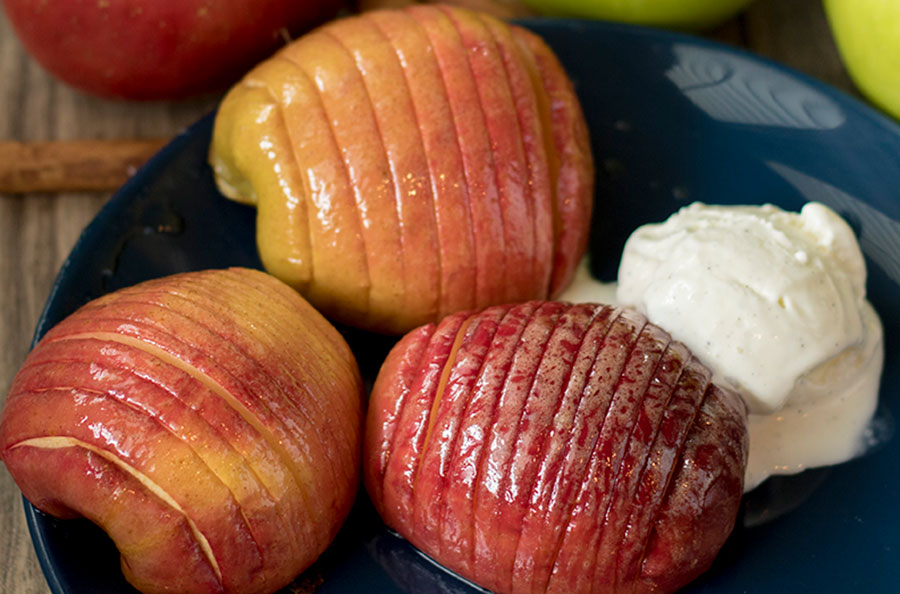 Hasselback Baked Apples
Course: Dessert, Sweets
Ingredients
3 large apples

Vanilla ice cream (optional, kind of)

Cinnamon, for garnish
Directions
Preheat oven to 400° F.
Cut apple in half lengthwise, the use a spoon to scoop out the core.
Set the core side down and cut apple into vertical slices, about 1/2 an inch apart, without cutting through the apple. (I used chopsticks on each side of the apple to keep me from cutting all the way through)
Repeat with the other half, then the other apples.
Place all 6 hasselback slices halves core side down on a baking tray. Brush apples generously with Cinnamon Honey Butter.
Bake at 400° F for 20-30 minutes, or until apples are tender.
Serve warm with a scoop of vanilla ice cream and a sprinkle of cinnamon, if desired.