Sweet Potatoes!
Sweet potatoes have really grown on me the last few years. To start, they're really good for you! Sweet potatoes are a very good source of Vitamin A, which is a powerful antioxidant– it helps reduce inflammation, and plays an important role in healthy vision, skin, and aging. There's much more we could talk about in terms of sweet potato nutrition. Here's some reading if you're interested! With all that in mind, mashed sweet potatoes are a delicious and healthy alternative to your Thanksgiving dinner table. You'll love our Cinnamon Mashed Sweet Potatoes so much, you'll make them all year round!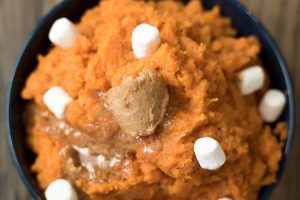 Cinnamon Honey Butter
Everyone raves about Chef Shamy Cinnamon Brown Sugar Honey Butter, and there's a reason! It's the perfect blend of cinnamon and honey sweetness. And it's a wonderful compliment to sweet potatoes. All you need is a blob of Cinnamon Butter and a splash of milk, and you've got a beautifully flavored, creamy side dish!
Adding sweet potatoes to your Thanksgiving menu might be a change, but it's a great way to go. Here's another variation you'll want to try: Easy Loaded Sweet Potato!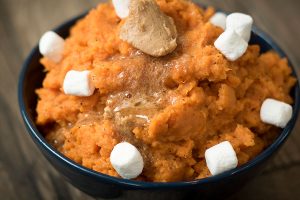 Cinnamon Mashed Sweet Potatoes
Course: Sides
Directions
Cut peeled sweet potatoes into chunks and boil in salted water until tender. Drain.
Put potatoes back in pot and add Cinnamon Butter. Mash until smooth and creamy, adding milk as necessary.
Salt and pepper to taste.
Serve with marshmallows.