Thanksgiving
It's already time to start planning ahead for Thanksgiving Dinner! What a wonderful time of year! You might be stressed out by the holidays– and it's understandable. There are gifts to buy, presents to wrap, family to accommodate, and, of course, food to make. But don't have any more stress about the food part– whether you're cooking the whole meal or just taking a dish, Chef Shamy has you covered for delicious and simple recipes. And a great place to start is with our Easy Loaded Sweet Potato!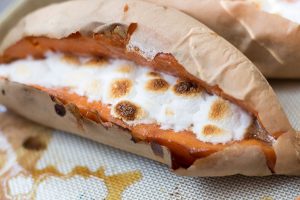 Loaded Sweet Potatoes
Sweet potatoes really only get the spotlight in the fall months, which is sad. Sweet potatoes are really good! And they're good for you– that is until we load them up with sugar! #noregrets
A loaded sweet potato is a baked sweet potato with some butter, cinnamon, brown sugar, and marshmallows. Are you thinking what I'm thinking? Chef Shamy Cinnamon Brown Sugar Honey Butter to the rescue! It has everything you need: cinnamon, brown sugar, and butter! It's the perfect combination. And, it's much easier than trying to cobble together all the separate ingredients– this way, you only need two! Cinnamon Butter and marshmallows!
And the taste is amazing! You'll love the sweet hint of honey and the punch of cinnamon from the butter, as well as the ooey-gooey marshmallows.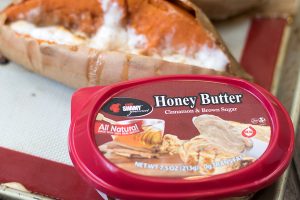 Entrée or Side Dish?
I've always struggled with potatoes, whether sweet or otherwise. I never know how to serve them: as an entrée or as a side dish. Sometimes the potatoes are so big that you can't imagine them as a side dish. But who wants only a potato as your entire meal? In fairness, these are delicious enough to satisfy my taste buds, but still. What do you think? How would you serve your Loaded Sweet Potatoes?
Here's some tips for baking the perfect sweet potato!
Round out your Thanksgiving table with our French Onion Stuffing!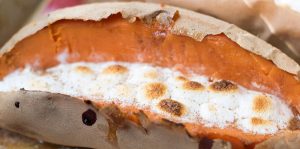 Easy Loaded Sweet Potato
Course: Sides
Ingredients
4 large sweet potatoes

1 cup mini marshmallows

Salt and pepper
Directions
Preheat oven to 425° F
Place potatoes on a large baking sheet. Bake at 425° for 45-55 minutes, or until soft all the way into the middle.
Cut potatoes down the middle lengthwise. (Don't cut completely in half, just make a pocket)
Put 1 Tablespoon of Chef Shamy Cinnamon Butter in each potato and allow to melt. Spread the melted butter around.
Divide the marshmallows equally between the 4 potatoes, and place them in the middle on top of the butter
Broil at 525° F for 2-3 minutes, or until starting to brown.
Don't forget a pinch salt and pepper– it will bring out all the flavors!
Serve warm