Smore Quesadilla
S'mores are ooey, gooey delicious! They remind me of fun times around a campfire, and having a panic attack when your marshmallow accidentally catches on fire. People who do this on purpose, I see you and don't understand! A nice golden brown is the way to go. Well, remove the campfire and add a tortilla, and you've got yourself a Smore Quesadilla!
It's an absolutely beautiful variation on a traditional S'more because it allows for all your favorite ingredients in a slightly less messy way!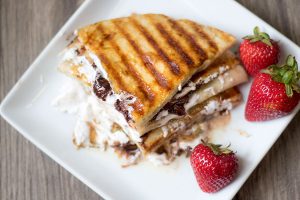 Strawberry Honey Butter
Chef Shamy Strawberry Honey Butter is one of our newer flavors of honey butter, and it's maybe my favorite. It has an absolutely divine flavor, and it goes well with so many things. Add it to chocolate, marshmallow, and graham crackers, and it's a match made in heaven. Believe me, once you smear it on the outside of your Smore Quesadilla, you'll never go back. You won't even want regular S'mores because you can't have Strawberry Butter on it.
If you're into the Strawberry Butter as much as I am, try these Strawberry Marshmallow Treats!
And try these S'more Cookies! They are scrumptious!
Strawberry Smore Quesadilla
Course: Dessert, Sides, sweets
Ingredients
1 tortilla

1 1/2 T mini chocolate chips

2 T mini marshmallows

2 T graham cracker pieces
Directions
Lay the tortilla flat on the counter in front of you.
Place chocolate chips, marshmallows, and graham cracker pieces on the bottom half of the tortilla in an even distribution.
Fold the top of the tortilla over.
Spread the Strawberry Honey Butter over the top of the tortilla.
Place the tortilla on a pan (medium heat), butter side down.
Spread butter on the other side (now face up)
Cook 3-5 minutes and flip.
Cook 3-5 minutes more.
Remove from heat and slice