Chowdah!
My wife spent part of her childhood in New Hampshire, so she still says chowder "chowdah." It's great. What is chowder anyway? How is it different from soup? And also, what's a bisque? Have no fear, I can answer all these questions. Bisques and chowders are generally thicker than soups. A bisque is typically smooth, while a chowder is chunky. There. All your burning questions put to rest. But it's true. This Garlic Ham and Potato Chowder is creamy and full of corn, potato, and ham. This delicious, garlic flavored chowder is comfort food at it's finest.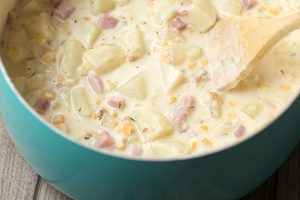 Leftover Ham
Garlic Ham and Potato Chowder is my go to recipe when I have leftover ham. To be honest, that only happens like twice a year: after Christmas and after Easter. But the nice thing is that you can buy packages of pre-cooked, pre-diced ham. And it's usually pretty cheap. But if you do happen to have some leftover ham, this is a great opportunity to use it. You can only have a ham sandwich so many times, you know what I mean? Soon you've got to find something else to do with it. You're welcome!
Here's another one: Garlic Ham Potato Lasagna Bake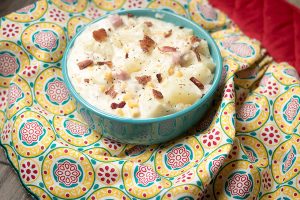 The main reason this chowder is so delicious is Chef Shamy Parmesan Basil Garlic Butter. Seriously, it's good stuff. It would taste good on a flip flop. It adds just the right amount of garlic to help the potatoes and corn, and with the ham, it's especially good.
Enjoy!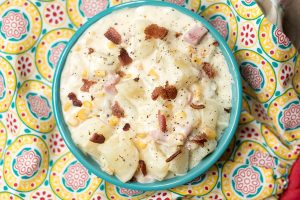 Garlic Ham and Potato Chowder
Course: lunch, Dinner
Ingredients
1 onion, diced

1 can corn

1 tsp dried thyme

2 T flour

3 1/2 cups milk

2-3 russet potatoes, peeled and diced

8 oz diced ham

Salt and pepper to taste
Directions
In a large pot, melt Garlic Butter. Add onion and saute until translucent, about 3-5 minutes.
Stir in corn and thyme, and cook 1-2 minutes.
Add flour and whisk, until lightly browned, about a minute. Slowly stir in milk, and cook, stirring constantly, until starting to thicken.
Add potatoes, and bring to a boil. Reduce heat and simmer until potatoes are tender, about 10-15 minutes.
Add ham. Taste for seasoning and add salt and pepper to taste.
Serve immediately. Garnish with bacon bits.