Pickle Grilled Cheese
We've been here before– the beginning of another post about grilled cheese. And I always say, "we've made a lot of grilled cheeses, but they're all different, and all good." True — but this one really is different than the rest– the weirdest for sure. But our Dill Pickle Grilled Cheese is surprisingly delicious!
This one was on our list for a while, but it was met with some skepticism. However, the creamy, smoky flavor of the provolone cheese perfectly balances the acidity of the pickles.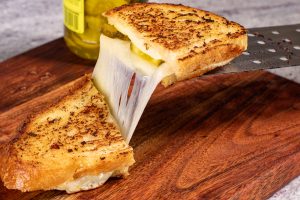 French Onion Butter
What really sends this grilled cheese sandwich over the top is our Fresh Churned French Onion Butter. The subtle onion flavor compliments the flavors of the cheese and the pickles while helping to achieve an even toast on the bread.
We found that two slices of cheese and four pickle chips was the the perfect ratio of ingredients– though feel free to experiment to find your perfect ratio.
Enjoy!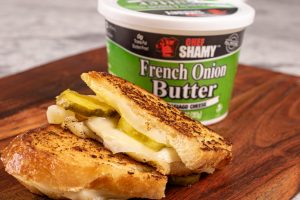 Dill Pickle Grilled Cheese
Course: Lunch, Dinner
Ingredients
4 slices bread

2 slices provolone cheese

4 slices provolone cheese

8 dill pickle chips
Directions
Butter one side of bread slices with French Onion Butter.
Place bread butter side down in a large skillet over medium heat.
Put two slices of cheese on two pieces of bread, and four pickles each on the other two slices.
Cook until toasty, and cheese is melted. Combine a cheese slice with pickle slice to make a sandwich.
Makes 2 sandwiches.