Mushroom Tortellini
This Black Truffle Mushroom Tortellini will blow your socks off! When we made this recipe at the Chef Shamy test kitchen, it was a hit, and multiple people asked for the recipe! This is such a simple meal to make, which makes it even better. It's just a few simple ingredients that pack a lot of flavor.
Let's talk through it.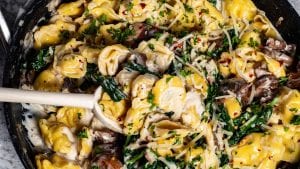 Black Truffle
First things first, get your tortellini cooking. Just follow the package instructions.
This recipe uses our Fresh Churned Black Truffle Butter. If you haven't tried it, run to the nearest store and get some — it tastes amazing! Melt some of that delicious butter in a large skillet or saucepan. Make sure it's got room for all of the ingredients– there's a lot of tortellini to fit in the pan.
Add some diced shallot and sliced mushrooms and let them cook so they'll soak up all the butter. Don't forget salt and pepper! Then comes the spinach. You may look at the recipe and think, "That's a lot of spinach!" True. But spinach cooks down, and trust me, once it's wilted, you'll be pleased with the amount that's in there.
Cream Sauce
Once your veggies are done, simply add some heavy cream and some Parmesan cheese. Then add your cooked tortellini! Stir everything until combined and let all those delicious flavor melt together.
We added some more cheese on top, because, well, cheese. We also sprinkled some red pepper flakes for a little heat to cut through the rich creaminess.
Enjoy!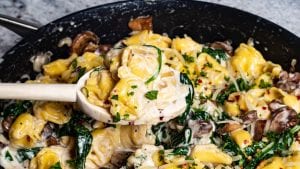 Black Truffle Spinach Mushroom Tortellini
Prep time:
Cook time:
Total time:
Ingredients
1 20 Ounce Package Cheese Tortellini
1 shallot, diced
10 oz sliced mushrooms
Salt and pepper
5 oz baby spinach
1 cup heavy cream
1 cup shredded Parmesan cheese
Red pepper flakes, to garnish
Instructions
Cook tortellini according to package directions.
Meanwhile, melt Black Truffle Butter in a large skillet or sauce pan. Add shallot and mushrooms, and cook 5 minutes. Season with salt and pepper, to taste.
Add spinach and cook until wilted. Stir in heavy cream and Parmesan cheese, then add cooked tortellini.
Stir everything to combine, then garnish with red pepper flakes (optional).
Serve.