Sweet Breakfast
I love breakfast food. There's an incredible range of things you can eat in the mornings, from sweet to savory. Unfortunately, my sweet tooth really comes out in the morning, so I like to have something delicious for breakfast. I grew up eating Cinnamon Rolls, but I've really grown to love orange rolls. But here's a twist on the classic! Easy Strawberry Orange Rolls are more tasty than any orange roll I've ever had. And with no added sugar (apart from the icing), they're a sweet breakfast you can feel good about! Good enough to eat the whole pan. No regrets.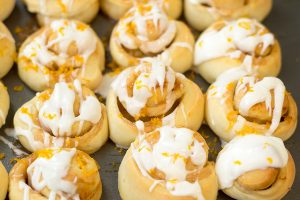 Strawberry and Orange
Two great flavors– put them together, and you've got an amazing combination. One of the great things about fruity flavors is they can feel sweet and decadent without feeling heavy. The zest of the orange brightens things up and awakes your palate first thing in the morning. The prominent flavor comes from using Chef Shamy Strawberry Honey Butter— one of the best ever! It's a great strawberry taste. The butter actually contains some strawberry juice, so there's no artificial, fake tasting strawberry flavor to be found. Add the orange zest, and you'll be craving these rolls every morning!
Easy Strawberry Orange Rolls are just that: easy! Save some time and buy some pre-made dough. There are all kinds of ways to do it. Many grocery stores sell dough in the bakery, so you don't have to buy it in the tube. Once you have your dough, spread some Strawberry Butter on it, throw some orange zest on there, roll it up, and cut it! Simple!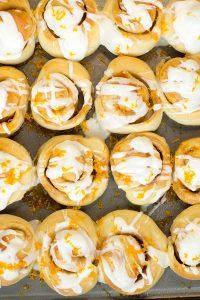 A Full Breakfast
Breakfast is an important meal. The most important meal. Why? A good breakfast fuels you for the day– without it, you can get tired, restless, and irritable. Also, eating a good breakfast jump-starts your metabolism, and changes the way your body handles your blood sugar throughout the day. It's important to eat a balanced breakfast. Make sure you have some fruit, or oatmeal. Have a glass of milk. Or drink a big glass of water.
Here's some more info on the benefits of eating right in the morning: Why Eating the Right Breakfast is So Important
Enjoy!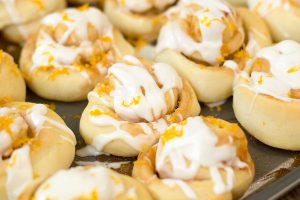 Easy Strawberry Orange Rolls
Course: Breakfast
Directions
Preheat oven to 350° F
Roll out dough into a large rectangle. Brush room temperature Strawberry Butter over the dough, all the way to the edges. Sprinkle orange zest over the butter evenly.
Starting at the bottom, carefully roll the dough up to make a tube. Using a knife or dental floss, trim off the edges and cut tube into 16 pieces.
Place rolls on a baking sheet and let rise, doubling in size.
Bake at 350° for 15-20 minutes, or until rolls are light golden brown.
Allow the rolls to cool.
Meanwhile, make the icing by combining powdered sugar, vanilla, and half and half. Stir with a whisk until creamy. If the icing is too runny, add more powdered sugar. If it's too thick, add more half and half.
Drizzle icing over cooled rolls and garnish with more orange zest.
Serve.