Monkey Bread
Do you know what monkey bread is? Have you had it before?
Traditional monkey bread is a pull apart bread flavored with cinnamon and brown sugar. Like this one!
Monkey bread just means that it's a finger food; you pull it apart and eat it with your hands. I love monkey bread! And I thought a tropical variation could be delicious, and I was right!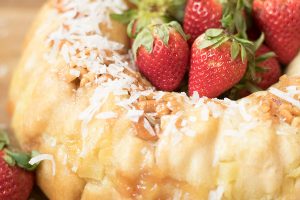 Tropical
Tropical flavors can be so much fun! Especially in the spring and summer time. I got the idea for this recipe back in November, and I've been waiting for warmer weather so I could finally do it! And it was worth the wait!
This recipe is delicious, easy, and full of ingredients you probably already have in your pantry!
The tropical flavors here are strawberry, pineapple, and coconut. Not only do they go together super well, you'll feel like you're on a carb-filled beach! Talk about satisfying your sweet tooth!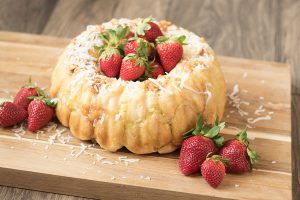 Strawberry, Pineapple, Coconut
The strawberry flavor comes from Chef Shamy Strawberry Honey Butter. It's got a great fruity flavor, and the butter almost caramelizes the other ingredients. Yummy.
Shredded coconut and crushed pineapple are both pretty straightforward. However, you might be in a place where fresh pineapple is plentiful and cheap, and so, sure, substitute some fresh pineapple instead.
I used crushed because, well, it was crushed. I didn't want big chunks of pineapple in my bread, but it would definitely be possible to chop up fresh pineapple really small. Pineapple is only in season March- June or so; just because your grocery store has pineapple doesn't mean it will be good.
You can also substitute the cashews for a different nut, or get rid of the nuts completely. I used cashews because I like them, and they felt fun and tropical.
Enjoy!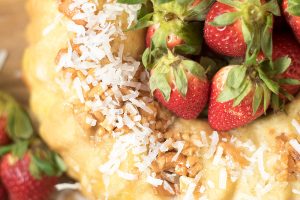 Tropical Monkey Bread
Course: Dessert, Snacks
Directions
Preheat oven to 350° F
Sprinkle chopped cashews in the bottom of a large bundt pan. Then add 1/2 cup coconut.
Quarter the rolls, so you have little pieces of dough. Add half the dough pieces on top of the coconut.
Then add half the crushed pineapple, half the Strawberry Honey Butter, and 1/2 cup of coconut.
Place the rest of the dough pieces evenly over the top.
Add the rest of the pineapple, the remainder of the butter, and the rest of the coconut.
Set aside a let the dough rise, until about doubled in size.
Bake at 350° for 20 minutes, then cover with foil and bake an additional 20-25 minutes.
Allow to cool a little before inverting the bread onto a plate.
Serve with fresh strawberries and more shredded coconut.