Halloween Food
These Bagel Dog Spiders are just one of the many fun ideas you can find for Halloween!
This is a fun time of year! You can be really creative in making normal foods spooky and scary. These "spiders" are actually just a bagel dog!
Look at these fun Mummy Brownies!
And while Halloween themed treats need to look ghoulish, they can't taste anything less than fantastic! Don't worry, we've got you covered.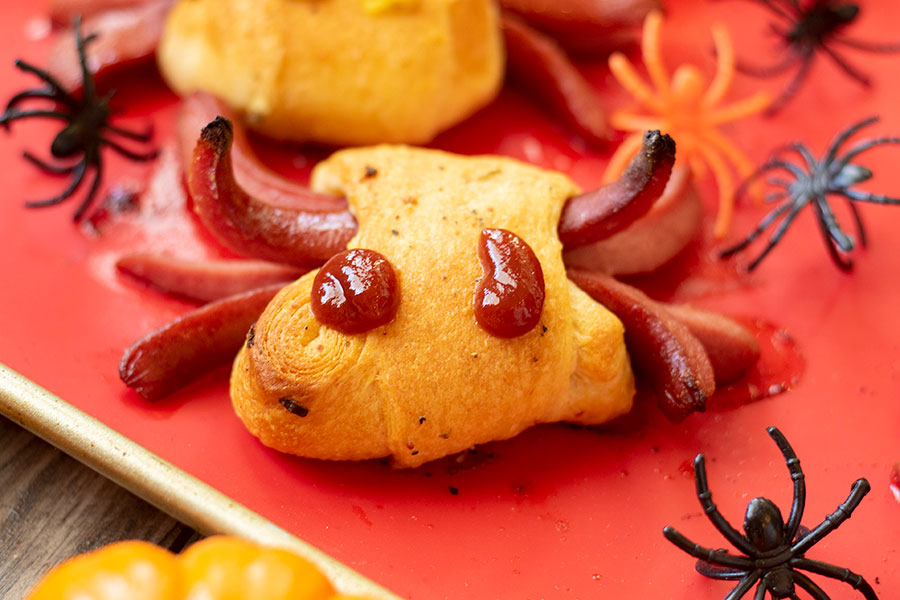 Bagel Dogs
A bagel dog is just a hotdog wrapped in bagel-style bread. It's similar to a corndog, except the ends are left exposed. It's nothing fancy, but we've got a secret ingredient to help the flavor.
Of course, it's Chef Shamy Garlic Butter! It gives the bread a kick of flavor that also compliments the meat!
They're oh-so-easy to make. Here's what you do:
Wrap a hot dog in a crescent roll, but only cover about the middle third of the dog.
Use a knife to cut the exposed ends into 4 pieces (legs). Brush the roll generously with Garlic Butter, then bake!
As it bakes the exposed hot dog will curl into eight spider legs. Use ketchup or mustard to make eyes and voila! Spiders!
It's fun to make and super fun to eat!
Enjoy!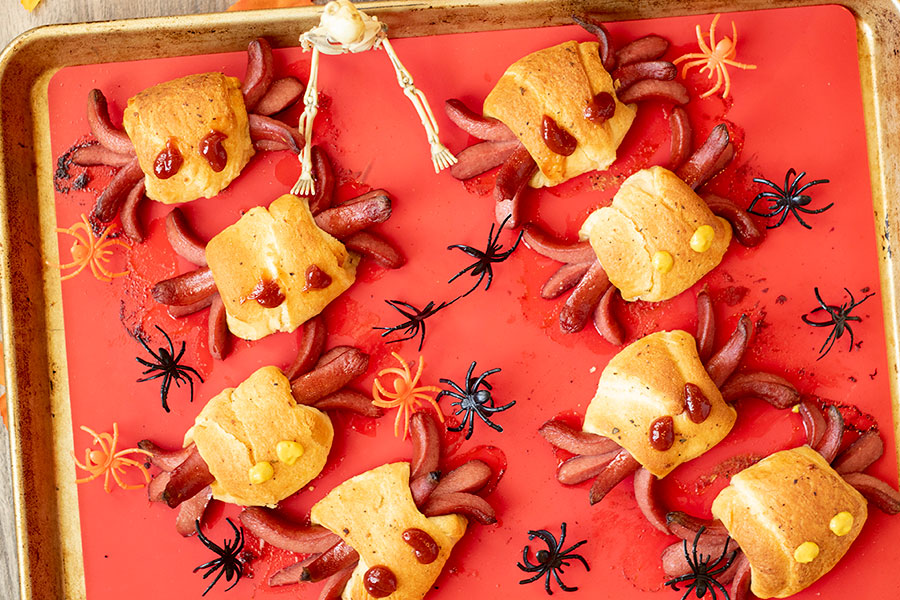 Bagel Dog Spiders
Course: Snacks
Ingredients
1 package bun-length hotdogs

1 can crescent rolls (8 count)

2-3 T Chef Shamy Garlic Butter

Ketchup and mustard, for decorating and dipping
Directions
Preheat oven to 375° F.
Open the can of crescent rolls and divide into 8 triangles. Fold to make 8 rectangles.
Wrap each rectangular crescent roll around each hotdog, covering only about the middle third.
Use a knife to cut the exposed hot dog on each side into 4 legs.
Brush crescent roll dough with melted Garlic Butter.
Bake at 375° F for 20 min, or until done.
Use ketchup and mustard to make eyes or faces.
Serve.