Halloween!
Celebrate Halloween in style with these amazing Vanilla Frosted Mummy Brownies!
Halloween is a fun time of year! The weather is cooler, leaves start to change, and adults and kids alike dress up in costumes! It's also a great time of year for food, and I'm not just talking about candy!
There are all kinds of ways to be creative with treats. It can a lot of fun to figure out ways to turn foods into spooky scary things! And there's none spookier than a mummy.
But while it needs to look fun, it's still got to taste amazing!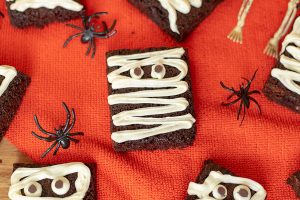 Brownies
Brownies are not too difficult to make. And while brownies from scratch is always better, sometimes making treats around holidays can be stressful.
If you're going from scratch, try this Shamy Family recipe.
If not, there are plenty of store bought mixes that can do the trick.
Brownies are the easy part! Bake them, let them cool, and cut them into pieces.
We found it easier to get the brownie out of the pan and onto a cutting board to make sure we cut the pieces evenly.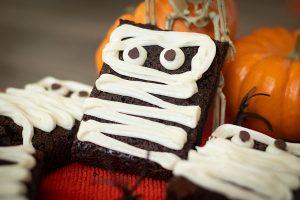 Vanilla Frosting
Brownies aren't usually frosted, but this Vanilla Frosting is too good not to love!
It's just a simple buttercream frosting using Chef Shamy Vanilla Bean Honey Butter. It's got real vanilla beans in there, so it's got a lovely sweet flavor. Powdered sugar and milk round out the ingredients. You'll want to use enough milk that the frosting will hold a shape but is easily piped.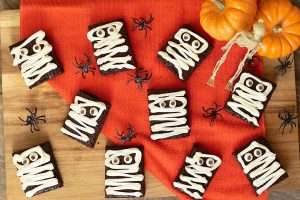 Decorations
It's pretty simple. We used an open star #17 tip for the piping bag– if you don't have it, or don't care, you can use anything. Pipe a little zig zag pattern up the brownie with some space at the top for the face.
Add two little dots, for the eyes, then put mini chocolate chips in the dots.
Don't stress too much about this. Our Mummy Brownies weren't exactly the same, and some were better than others! Just have fun and decorate the best you can!
Happy Halloween! Enjoy!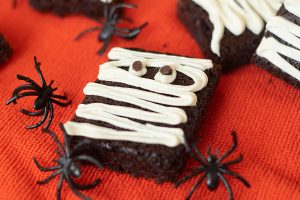 Vanilla Frosted Mummy Brownies
Course: Dessert, Snacks
Directions
Bake brownies in a 9×9 pan according to package directions, or make from scratch. Allow to cool completely, then cut into 12 individual brownies
Meanwhile, make the frosting. Sift powdered sugar into Vanilla Honey Butter. Beat together until smooth, adding milk as needed to thin the frosting. You want the consistency to be thick enough to hold the decoration, but not too thick that you can't pipe it easily.
Transfer frosting to a piping bag with open star #17 tip.
Pipe a zig zag pattern on each brownie, leaving an open space for the face at the top. Pipe two dots in the space for the eyes. Finish the eyes with two mini chocolate chips for the pupils.
Serve.