Brownies!
I absolutely love brownies! I grew up eating them. They're a staple in any baker's recipe book. But these brownies, straight from the actual Chef Shamy's cookbook, are something special. I can't say enough about them– they're moist without feeling soggy, they're rich without being overdramatic, and they're sure to please any chocolate lover. After all, they are triple fudge! That's right– 3 types of chocolate: cocoa, chips, and pieces!
And for interested parties, A Baker's Guide to Chocolate.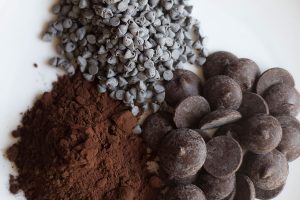 Made From Scratch Brownies
We've all had brownies from a box. That's the preferred method these days, it seems. Especially when you can buy the mixes in bulk– and from a box brownie mix can be pretty good! But let's face it: homemade is always superior. Made from scratch is the way to go– and these brownies are pretty easy to make, so it's worth the 15 minutes to whip them up. And sorry, these will ruin your taste buds; you'll never want brownies from a box again!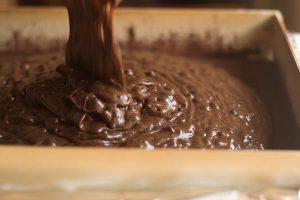 More Ways to Enjoy
If I may, a couple of suggestions to make this recipe even better:
Try throwing some pecans or dried cherries in the mix. Not everyone likes nuts in their brownies, but I don't think a few pecans to break through the chocolate would hurt anyone. As for the cherries, can you imagine the lovely burst of flavor and acidity in the occasional fruity bite? Yummy.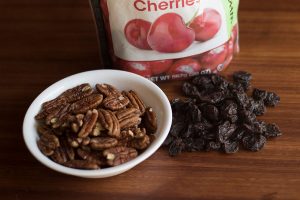 Also, serve Chef Shamy Triple Fudge Brownies with Vanilla Bean Cream Dessert Topping or Raspberry Sauce to make this a 5 star dessert!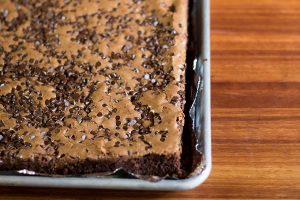 Triple Fudge Brownies
Chef Shamy Triple Fudge Brownies
Prep time:
Cook time:
Total time:
These are without exception the best brownies ever!
Ingredients
Half baking sheet (Dimensions: about 13" x 18")
1 lb. salted butter
16 oz semi sweet chocolate pieces or bar
3 T vanilla extract
6 large eggs
3 cups sugar
3 cups mini chips (semi-sweet chocolate)
2.5 cups flour
1.5 t salt
¼ cup dark cocoa
Instructions
Pre-heat oven to 350°F
Cover baking sheet with tin foil slightly building up the sides of the pan with the foil to accommodate the rising brownie
Grease with butter and sprinkle some cocoa over the greased pan
Melt butter and semi-sweet chocolate in microwave (2 to 3 minutes in 1 min. increments)
Combine sugar, vanilla and eggs with electric hand mixer or whisk. In separate bowl, mix flour, cocoa, salt together
Briefly mix melted butter and chocolate and gradually add to egg mixture while whipping. (Add hot butter mixture slowly to insure that the eggs don't get cooked.)
When thoroughly mixed, add dry ingredients until all are combined
Stir in 2 cups of mini chips
Pour into baking sheet
Sprinkle last cup of chips on top
Bake 30 minutes
Allow to cool for 30 minutes prior to serving
Notes

For small batch (typical 9 X 9 inch baking pan) use ⅓ these quantities.
This super moist brownie will keep for a week if covered.


*Photos courtesy of Standford Investment Systems, all rights reserved