Vanilla Bean
I really like vanilla. It's such a lovely, sweet, subtle flavor. And I love adding it to a myriad of desserts. This Vanilla Bean Cream Dessert Topping pairs well with so many desserts. You can even use this custard as a base to make your own vanilla ice cream! It's pictured here with Chef Shamy's Triple Fudge Brownies, which are absolutely to die for! But you could put it on your morning waffles or even use it as a topping on ice cream. Mm. Chocolate ice cream with vanilla sauce? Sign me up for that, and give me extra. You could even pour it over some fresh berries for a homemade version of berries and cream!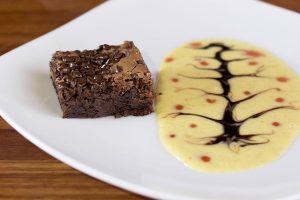 Easy and Tasty
I could talk forever about how tasty this dessert topping is, but that might get boring for you. So instead, I'll talk about how easy it is to make! Don't be intimidated by the recipe! While it's not difficult, it does take a little bit of patience. You've got to take the time to let the sauce thicken up. The only other thing is to make sure not to cook the eggs when you stir in the cream– do it slowly and keep stirring!
Let me know what you put your Vanilla Bean Cream Dessert Topping on! Enjoy!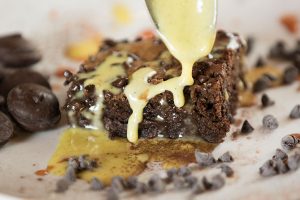 Vanilla Bean Cream Dessert Topping
Home made vanilla sauce made with all natural ingredients can also act as a custard for vanilla bean ice cream
*Photos courtesy of Standford Investment Systems, all rights reserved
Vanilla Bean Cream Dessert Topping
Course: Dessert
Ingredients
1 cup heavy cream

1/2 cup sugar

1 tsp vanilla bean paste (or insides of one vanilla bean plus 1/2 tsp real vanilla extract)

4 egg yolks
Directions
Mix egg yolks, sugar and vanilla in metal bowl (copper if available).
Gradually mix hot cream into egg mixture, taking care not to cook eggs.
Put entire mixture back on heat on a medium setting and continue to stir with a wooden spoon. The mixture will eventually thicken into a custard. Dip a wooden spoon into the mix and draw your finger over the back side of the spoon. If it leaves a path, the custard is done.
Chill and serve as a sauce over your favorite pie, pudding, cake or other dessert.
Notes
Chill in gelato maker for a wonderful vanilla bean ice cream.[br]Also makes a great waffle or crepe topping for vanilla lovers.[br]To make the design above, pour a line of chocolate sauce into vanilla sauce and use a fork or toothpick to draw design.