Pumpkin Cake
Fall is one of the best times of the year, because pumpkin is in season! And while there are many great uses of pumpkin– pies, cookies, soups, breads– pumpkin cake is one of my favorites.
One of the only ways to make a pumpkin cake better, however, is to put a cinnamon streusel topping on it! You'll love our Cinnamon Streusel Pumpkin Cake. It's sure to become a family favorite. The cake has a wonderful pumpkin taste, with hints of cinnamon, ginger, nutmeg, and cloves. It's a taste bud full of special fall flavors!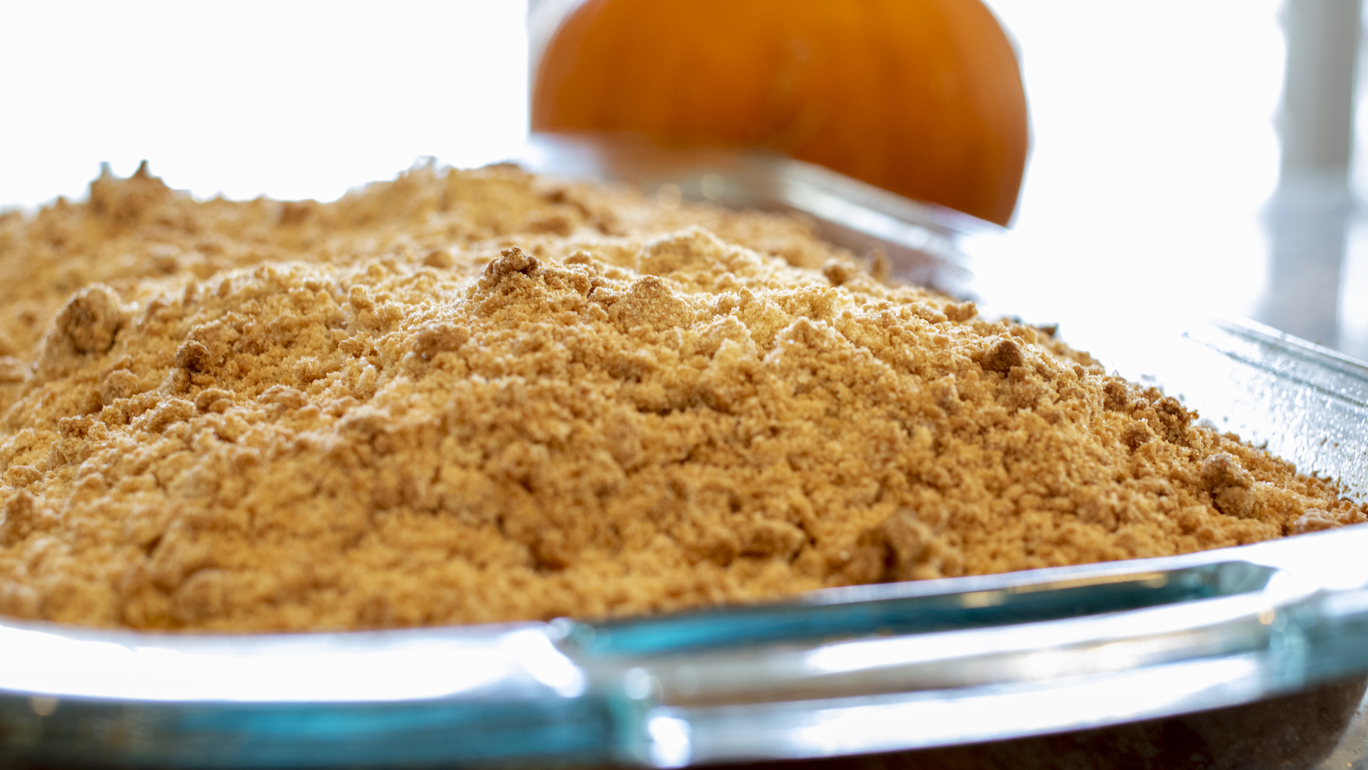 Streusel
Streusel originated in Germany– it's a combination of flour, butter, and sugar that's used on top of pies, cakes, or tarts. The most common use of streusel in America is coffee cake, which I suppose this recipe technically is! It does remind me of a pumpkin coffee cake with the streusel on top. And I love that, because that means you can have this cake for breakfast and not feel bad. Plus, pumpkin is a vegetable, so it's totally healthy, right? Right?
We use Chef Shamy Cinnamon Brown Sugar Honey Butter to make this streusel, and it's the way to go. Chef Shamy Cinnamon Butter is the perfect thing to spruce up any fall recipe. The cinnamon is absolutely beautiful, and the brown sugar and honey balance perfectly to find a honey butter that's sweet but isn't too sweet!
Try our Carrot Cake with Cinnamon Cream Cheese Frosting!
Or try this Cinnamon Pineapple Bread!
Enjoy!
Cinnamon Streusel Pumpkin Cake
Cinnamon Streusel Pumpkin Cake
Course: Dessert, Sweets, Snacks
Ingredients
Cake:

2 cups sugar

1 cup vegetable oil

4 eggs

1 (16 oz) can pumpkin puree

1 tsp vanilla extract

3 cups flour

1 tsp salt

1 tsp baking soda

1½ tsp baking powder

2 tsp ground cinnamon

½ tsp each ground ginger, nutmeg, and cloves

Streusel:

1 cup flour

1/2 cup sugar
Directions
For the cake
Preheat oven to 350° F
Using an electric mixer, cream sugar and oil together, then add eggs one at a time, mixing in between.
Add pumpkin puree and vanilla extract then mix
In a separate bowl, combine dry ingredients and spices, then slowly add to the batter until incorporated
Pour the batter into a greased 9×13 pan.
For the Streusel:
Combine the flour and sugar, then add cold butter and mix until resembling crumbs.
Sprinkle the Streusel on top of the cake batter evenly. Bake for 45-50 minutes, or until a toothpick inserted into the center comes out clean