Carrot Cake
Cake is one of life's sweet pleasures. But not all cakes are created equal. You will reach the height of culinary pleasure when you eat an exceptional piece. The balance created by a great carrot cake rewards the palate in ways other sweets fall short. The balance of moist cake and sweet cream cheese frosting is bliss. And you're probably saying to yourself, "This is actually healthy because it's made with carrots." Regardless of the outcome of the health debate on Carrot Cake, your day is always a little brighter after you indulge in a piece. This variation is likely to hit your top ten list of desserts.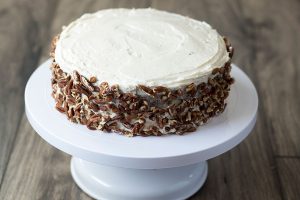 Our Carrot Cake with Cinnamon Cream Cheese Frosting is absolutely to die for! Seriously, I think it's one of the best I've ever tasted. The cake itself is moist and incredibly flavorful– the orange zest really comes and cuts through the sweetness of the frosting.
And the frosting! It's a twist on the classic cream cheese frosting. I've been excited to try our butters in a frosting context for a while — and this did not disappoint!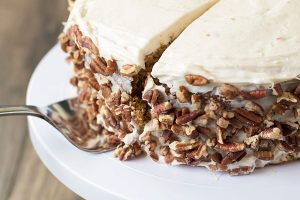 Cinnamon Butter Two Ways
The key to this recipe is Chef Shamy Cinnamon Brown Sugar Honey Butter. We all know how delicious the Cinnamon Butter is, but this is a slightly unique recipe in that we use the butter twice– in the cake and in the frosting.
It can be difficult to bake a cake with butter; many cake recipes call for vegetable oil. But putting butter in a cake really adds a rich flavor and allows the cake to be soft and moist. And such is the case with our Carrot Cake!
Cinnamon butter makes a lot of sense to add to the cream cheese frosting. The cinnamon is very subtle, but it's sooooo good. It does make the frosting a little sweeter than it normally would be, but who said that's a bad thing?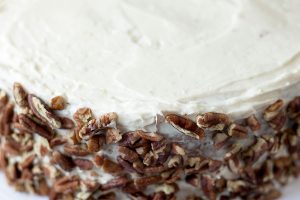 Cake Decorating
The hardest thing about cakes, for me, is decorating them. (The easiest thing about cakes, for me, is eating them.) But the great thing is that there are many ways to decorate a cake! We have a lovely thick layer of frosting on the top of our carrot cake, but a rather scant amount on the sides, which we've covered in chopped pecans. I loved the pecans, because it was a nice change of texture as well as taste.
How did you decorate your Carrot Cake? Send us a pic!
Here's a lovely resource: Cake Decorating 101
Enjoy!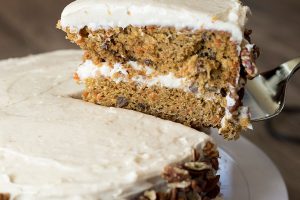 Carrot Cake with Cinnamon Cream Cheese Frosting
Carrot Cake with Cinnamon Cream Cheese Frosting
Prep time:
Cook time:
Total time:
Ingredients
Cake
1 cup chopped pecans
1 cup packed brown sugar
½ cup sugar
4 eggs
¾ cup unsweetened applesauce
1 tsp vanilla extract
2½ cups flour
2 tsp baking powder
1 tsp baking soda
½ teaspoon salt
1½ tsp ground cinnamon
1 tsp ground ginger
¼ tsp ground nutmeg
¼ tsp ground cloves
Zest of 1 orange
2 cups grated carrots
Cream Cheese Frosting
16 oz softened cream cheese
½ cup Chef Shamy Cinnamon Brown Sugar Butter, softened
2 cups powdered sugar
3 T heavy cream or milk
1 cup pecans for decorating (optional)
Instructions
Preheat oven to 300°F
Spread the chopped pecans on a baking sheet and toast for 8-10 minutes. Remove from the oven and allow to cool
Turn the oven up to 350°F
In a large bowl, whisk the brown sugar, sugar, oil, eggs, applesauce, and vanilla together until well combined
In another large bowl, whisk the flour, baking powder, baking soda, salt, cinnamon, ginger, nutmeg, and cloves together until combined
Fold the wet ingredients and the dry ingredients together until just combined. Then fold in the carrots, orange zest, and the toasted pecans
Pour batter evenly into two greased cake pans. Bake for 30-35 minutes, until a toothpick inserted into the center comes out clean
Allow the cakes to cool completely before frosting
To make the frosting, combine the cream cheese and Cinnamon Butter together using an electric mixer
Add the powdered sugar and 2 Tablespoons of cream or milk. Beat for 2 minutes. Add 1 more Tablespoon cream if needed to thin out.
Notes
Pecans are optional inside the cake