Pot Stickers!
Pot Stickers are a Chinese dumpling– they are traditionally steamed and then pan fried on one side, and they're filled with meat (often pork) and chopped vegetables. They're absolutely delicious! In fact, they're one of the foods that I frequently crave.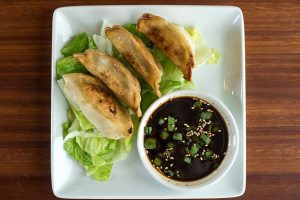 Whenever I go out for Chinese food, I always get Pot Stickers. There's a particular restaurant that my wife and I really like, and their pot stickers are the bomb. The filling is flavorful and moist, and they are crunchy– they've got a nice, firm wrapper that I just love. But honestly, sometimes I'll just buy a big bag of the frozen ones at Costco or something– cause they're pretty good and that way I can have them whenever I feel the craving! But if I wasn't so lazy, I'd probably make my own. (Here's a recipe to get you started.) One thing you'll surely make yourself, though, is our amazing Ginger Chili Pot Stickers Sauce!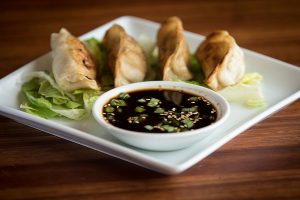 Dipping Sauces
The great thing about our Sauce is that it's so easy. You literally just mix all of the ingredients together. Which is what you want in a dipping sauce, right? You don't want to have to stand there and slave away on some complicated recipe. Well, this is measure, pour, and stir– it's that easy. And, it can be kept for a while once you've made it. Make and big batch and keep it around in your fridge or pantry– it will stay good!
Let's be honest, nothing is better than a really good dipping sauce. And we're all different in how we approach them. Some of us like to just dip and get the hint of flavor on our pot sticker, and some like to dip it in and let it sit, let it soak in so they get a nice juicy bite. I'm happy to report that both types of dippers will be pleased with this recipe.
Enjoy this family favorite!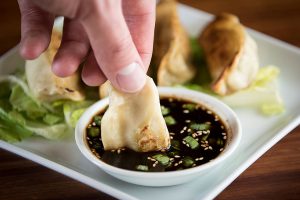 Ginger Chili Pot Stickers Sauce
Course: Appetizers, Sides
Ingredients
1/2 cup Soy Sauce

1/2 cup Rice Vinegar

1 tsp mustard powder

1 T garlic chili paste

dash EACH paprika, salt, and black pepper

1 T sugar

Fresh minced cilantro

Fresh minced ginger

1 T Fresh chopped green onion
Directions
Mix all ingredients together until combined into a sauce
Heating the mixture is not necessary to serve but can help the flavors to steep by warming for 10 minutes.
Mix is shelf stable and does not require refrigeration.
Notes
This sauce is also a great marinade for beef or chicken.
3.5.3226