Chicken Waffle Sliders
Chicken and waffles is a classic combination. The sweetness of the waffle and syrup against the savory fried chicken is delicious! This dish is a staple in American diners across the country. But our new Chicken Waffle Sliders are a slight twist on the recipe — for one, we use honey butter instead of syrup — and we only use three ingredients!
You can serve these sliders for breakfast, lunch, dinner, or snack. Serve them at your Super Bowl party, or for a celebratory night in! Let's talk through this easy recipe.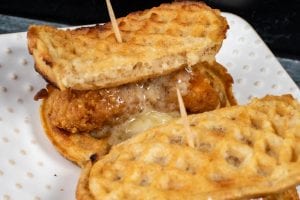 3 Ingredients
This recipe only calls for 3 ingredients: chicken, waffles, and our Fresh Churned Rich and Creamy Honey Butter. And to make things even easier, we use frozen chicken strips and frozen waffles. Could you make your own fried chicken and fresh waffles? Yes! You can if you feel like it, but theres's no shame in taking things easy.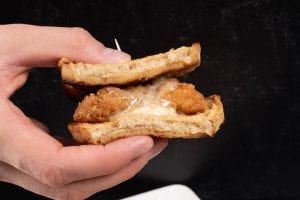 The real star here is our Rich and Creamy Honey Butter. It's bursting with honey sweetness that perfectly compliments the chicken and the waffles!
Keep things simple and enjoy this delicious recipe!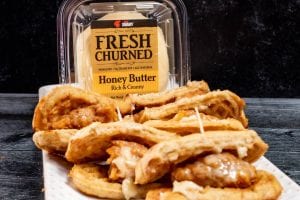 Honey Butter Chicken Waffle Sliders
Course: Breakfast
Ingredients
Frozen chicken fingers

Frozen mini waffles
Directions
Cook chicken strips and waffles according to package directions. Cut chicken strips to a size that will fit on a waffle.
Make sliders with two waffles, a piece of chicken, and a dollop of Rich and Creamy Honey Butter. Hold sandwich together with a toothpick.
Serve.