Blossom Cookies
Blossom Cookies, AKA Hershey Kiss Cookies were a favorite Christmas time cookie in my house growing up. My mother made them every year without fail. She made the classic ones– peanut butter. But these Strawberry ones are going to rock your socks, through the holiday and all year round!
Blossom Cookies are a specialty cookie– as soon as you take them out of the oven, press a chocolate kiss candy into the center of the warm cookie. It creates a cool look, as well as a little pool of melted chocolate right in the middle.
And we love them!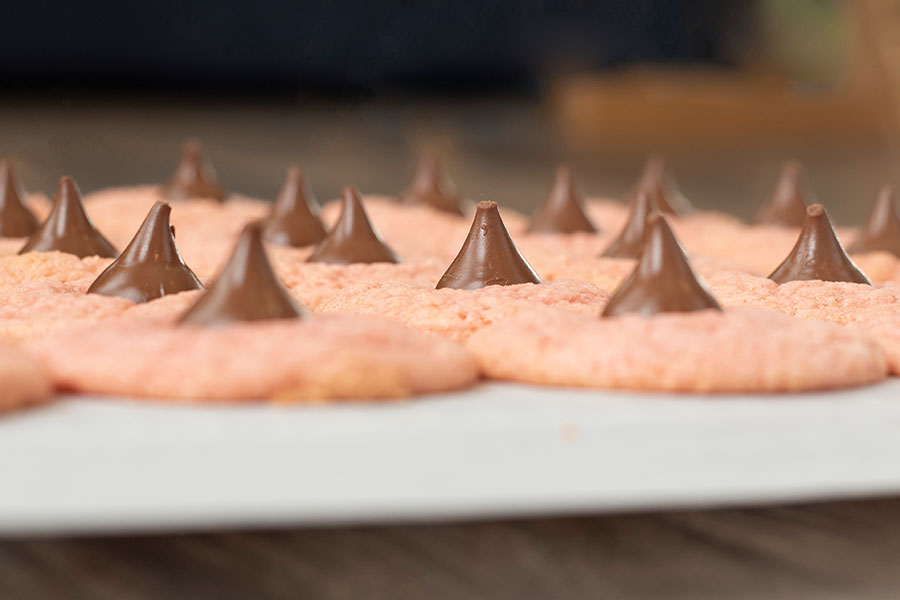 Strawberry
Strawberry and chocolate go together well– and we've been looking forward to making this recipe for months. But strawberry can be a hard flavor to get into a cookie. At least, it used to be.
With Chef Shamy Strawberry Honey Butter, it's easy! The butter is flavored with real strawberries, and has a great fruity flavor. You can substitute it for regular butter in any cookie recipe and it will be delicious! Just make sure that you're measuring correctly when baking.
For some tips, check here.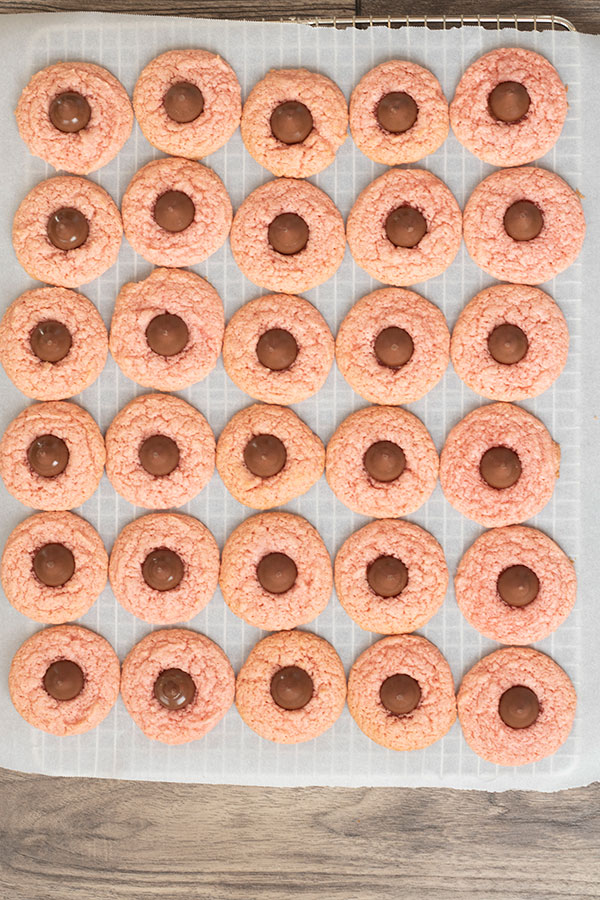 Baking
This is a pretty standard cookie recipe:
Cream together the Strawberry Honey Butter and sugar until it's fluffy. Add an egg and some vanilla extract and mix it together.  If you want your cookies to be pink, add a couple drops of red food coloring here. Add your dry ingredients, and you've got cookie dough!
The key is to make sure your cookies are a) perfectly round, and b) all the same size. You don't want them to be huge, or it will dwarf the chocolate kiss.
Also, put the chocolate kisses on immediately after they come out the oven. You want the cookie to be warm: it will melt the bottom of the kiss.  Otherwise, the kiss will fall off.
We hope you love these Strawberry Blossom Cookies as much as we do!
Enjoy!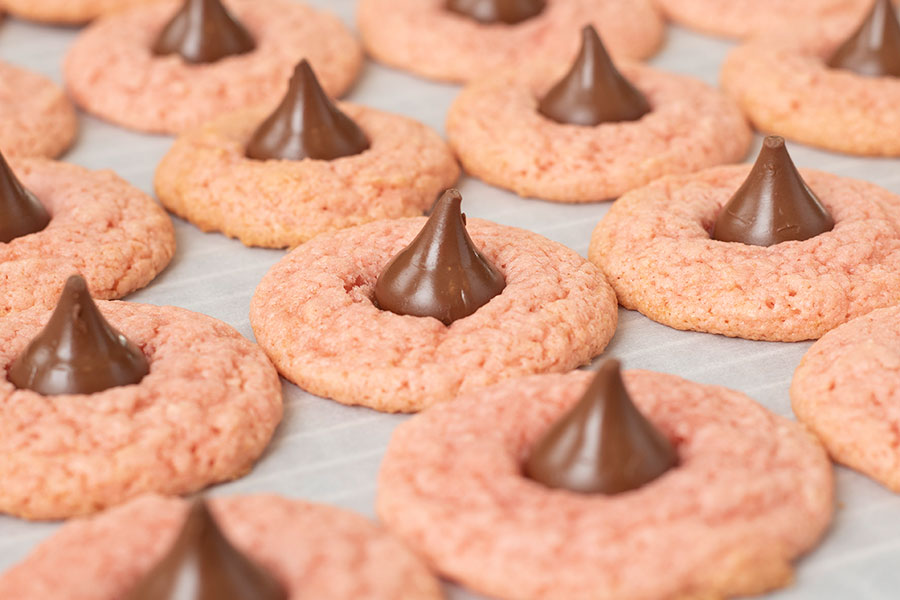 Strawberry Blossom Cookies
Course: Snacks
Ingredients
1 cup granulated sugar

1 egg

1 tsp vanilla extract

4 drops red food coloring (optional)

2 cups all-purpose flour

¼ tsp baking soda

¼ tsp salt

2-4 T milk

36 Hershey's Kisses, unwrapped
Directions
Preheat oven to 350° F.
In a large mixing bowl, cream together Strawberry Butter and sugar until light and fluffy. Add egg and vanilla, and beat until combined. Add flour, baking soda, and salt. Mix to combine. Mixture will be stiff.
Add milk, as needed, a tablespoon at a time, until mixture is a normal cookie consistency.
Use a cookie scoop to place dough balls out an greased baking sheet (usually 12 per pan).
Bake at 350° F for 11-13 minutes, or until edges are just golden.
Immediately out of the oven, press a Hershey kiss into the middle of each cookie. Allow to cool completely.
Serve.