Blueberry Waffles
These Lemon Blueberry Waffles are bound to be your new favorite breakfast. They're fruity and delicious!
Waffles are notoriously easy to make, especially because the waffle iron does all the cooking for you. This recipe benefits from two different applications of berries for maximum flavor, and trust me when I say that you'll want both. But let's save that for below, where we can talk in greater detail about the whole process.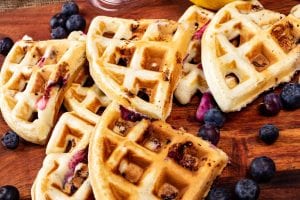 The Batter
Waffle batter is pretty standard, no matter the recipe: flour, sugar (sometimes), baking powder, salt, eggs, and milk. Some recipes use butter, some use oil — but I bet you can guess which one we're using! Introducing our new Blueberry Honey Butter: it's flavored with real blueberries and it's absolutely delicious! Melt some and stir it into your batter.
But that's not all: throw some real blueberries in the batter just for kicks. There won't be a lack of flavor in these waffles, believe me.
Cook the waffles according to your waffle iron. Every iron is different, but most keep time for you so you don't have to.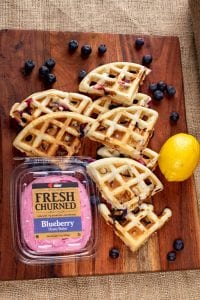 Toppings
Maple syrup is the traditional topping for waffles, but I like to mix things up. My recommendation would be an extra dollop of Blueberry Butter. Leave it to melt all over the hot waffles, and you won't need syrup. You could also garnish with a fresh squeeze of lemon juice or a sprinkle of powdered sugar.
This recipe makes a big batch, but don't worry. Keep the leftovers in the fridge or freezer, then pop the waffles into a toaster to warm them up. 
Enjoy!
Lemon Blueberry Muffins
Ingredients
2 cups all purpose flour

2 T sugar

3 tsp baking powder

½ tsp salt

2 eggs

1 ½ cups milk

1 tsp vanilla extract

Zest of 1 lemon

Juice from ½ a lemon

1 cup blueberries

Powdered sugar, to serve
Directions
Preheat waffle iron.
In a large bowl, combine flour, sugar, baking powder, and salt. In a separate bowl, whisk together the eggs, milk, and vanilla. Pour the wet ingredients to the dry and whisk until combined.
Pour melted Blueberry Honey Butter into the batter, along with the lemon zest and lemon juice. Fold gently into the batter until smooth. Then fold the blueberries into the batter.
Scoop batter into the waffle iron and cook until waffle are golden brown.
Serve with additional Blueberry Honey Butter, a squeeze of lemon juice, and powdered sugar.