Grandma's Cornbread
When I was growing up, my family only had cornbread once a year. We had it on Halloween, when my mom made chili (the one time a year we had chili). I don't remember liking it much. My mom is a fantastic cook, and an even better baker, but I always thought of cornbread as dry and bland. Then, one Halloween, something new entered the scene. My mom decided to use my grandma's (her mom) recipe, and life changed forever. It was moist, sweet, and delicious. It was almost like cake! From that moment forward, I was a fan.
Cornbread with a Twist
My grandma's recipe uses a couple of curve ball ingredients: Bisquick and butter. Bisquick gives it the cake like texture. Using butter instead of oil allows for a moist cornbread rather than dry.
Now, we know some things about butter. So we decided to use Chef Shamy Strawberry Honey Butter in the recipe, and boy, was it incredible. First off, it made the whole house smell AMAZING. Then the taste: it added just a little bit of fruity sweetness to the cornbread. I slathered some more Strawberry Butter on top and it was a perfect bite.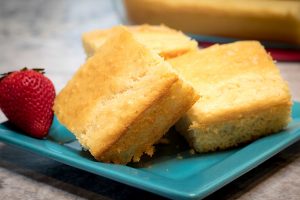 The Ultimate Side Dish
Cornbread is great because it can compliment so many dishes. It's a staple of Southern food. Put it next to some Brisket or Pulled Pork. Serve it with Jambalaya or soup. There's never a bad combination. But, in honor of my grandma and mom, make sure you serve it with chili. On Halloween.
Here's a chili recipe to get you started.
Enjoy!
Strawberry Honey Butter Cornbread | Chef Shamy
Course: Sides, Snacks
Directions
Beat eggs
Add milk and melted butter
Mix dry ingredients together and add this to the liquid ingredients
Mix until just combined
Put in a greased 9×13 pan
Bake at 350° for 35-40 min or until golden brown