Side Dishes
Potatoes. Potatoes are the classic American side dish. When you think potatoes, you think fries, or mashed potatoes with gravy. And those are great– but sometimes you're in need of a more refined side dish. Enter: Lemon Dill Skillet Potatoes. It's refined, simple, and elegant. And it tastes fantastic! Serve them alongside a nice steak, or a beautifully cooked piece of chicken. Or even, dare I say it, just serve it as an entree!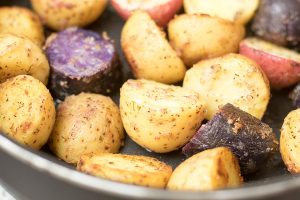 Lemon Dill Saute Butter
The star of the show is Chef Shamy Lemon Dill Saute Butter. Lemon Dill Butter is a lesser known flavor in the Chef Shamy selection, but it's no less delicious than the others. It's got a zesty lemon kick, and the herbalicious dill flavor really compliments it well. The great thing about Chef Shamy Saute Butters is it has enough salt that you should have to add any! Literally all the flavor you need to appropriately season your food is in the butter. Which makes cooking even easier!
Here's some great Chicken recipes to go with these Skillet Potatoes!
Enjoy!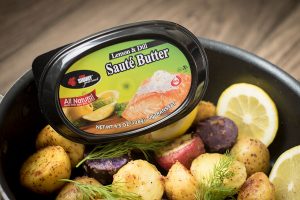 Lemon Dill Skillet Potatoes
Course: Sides
Directions
Cut baby potatoes in half, and wash. Put potatoes in a large pot, and cover them with water. Salt the water! Bring water to a boil and cook potatoes for 10-15 minutes, until fork tender. Don't overcook or the potatoes will turn to mush in the skillet.
In a large skillet, melt Lemon Dill Butter over medium high heat. Add the potatoes and coat evenly with the butter. Cook for 3-5 minutes, until the potatoes start to caramelize in the butter.
Serve warm.