Quiche
Quiche is a classic breakfast egg-based tart, usually filled with vegetables or meat. It's really delicious, and actually really easy to make, so it's a perfect breakfast.
Actually, we did a poll on Instagram a few weeks ago to see what people would want for their Mother's Day breakfast: quiche or crepes? Quiche won! So here we are!
This recipe is vegetarian, because sometimes you want your breakfast to be light and healthy. Add some seasonal fresh fruit and this breakfast is the perfect Mother's Day (or any other day) breakfast!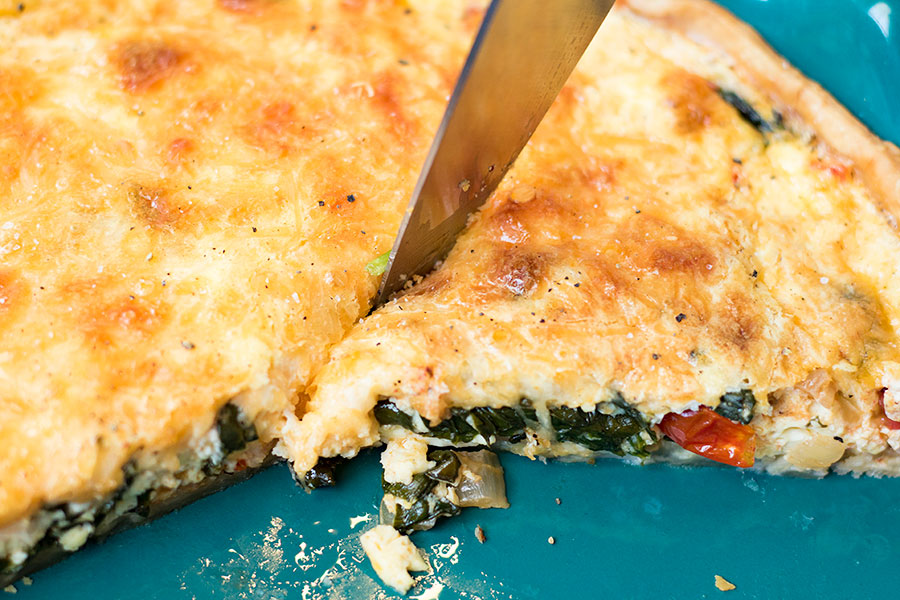 Ingredients
I like to keep my ingredients simple in the mornings, so this recipe follows that line. Grape tomatoes, shallots, and spinach are great together. Add some Chef Shamy Garlic Butter and you may eat it all before you have a chance to put it in the pie crust!
Speaking of the crust: I'm always a fan of homemade crusts, especially since they usually aren't that difficult to make. But there's no shame in buying a pre-made store bought crust. Sometimes convenience is the name of the game, and that's okay. So if you have a great recipe, make your own. Otherwise, buy it!
Breakfast is about bringing your family or friends together for a simple, delicious meal, so enjoy this one! You're going to love it!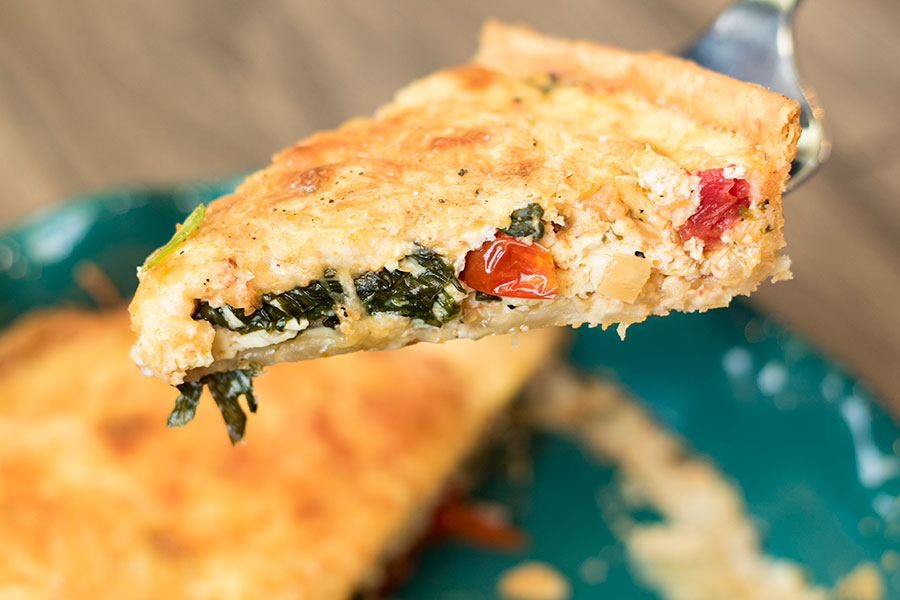 Spinach, Tomato, and Cheese Quiche
Course: Breakfast
Ingredients
Pie dough

Beans for blind baking

2 cups grape tomatoes (halved)

1 shallot, peeled and minced

4-5 oz baby spinach, roughly chopped

Salt and pepper to taste

4 large eggs

1 cup half and half

2 cups shredded colby jack cheese
Directions
Preheat oven to 375° F
Lay your pie dough in a greased 9 inch pie pan and press into the sides. Poke some holes with a fork then cover with parchment paper. Pour beans on top and spread around to keep the crust from puffing up while blind baking.
Bake crust at 375° for 12-15 minutes.
Meanwhile, melt Garlic Butter in a skillet over medium heat. Add grape tomatoes and saute about 3-5 minutes.
Add shallots, and continue to saute until they are tender. Then add spinach and mix, allowing to wilt.
Salt and pepper to taste.
Set aside.
Combine eggs, half and half, and plenty of salt and pepper. Mix completely.
In the bottom of the pie crust, spread tomato and spinach evenly. Pour egg mixture over top, then top with cheese.
Bake at 375° F for 30 minutes, or until golden brown and the eggs are set.
Allow to cool 10 minutes before cutting.