Sweet Potatoes
Before we start talking about Sweet Potato Fries, are you ready for me to blow your mind with some sweet potato trivia? Sweet potatoes can vary in color from white to orange to purple. Obviously, the orange is the most readily recognized. Also, do you know the difference between a yam and a sweet potato? Well, according to my research, most people have never had a yam, and what they think is a yam is usually, in fact, a sweet potato. Here's the article if you're interested.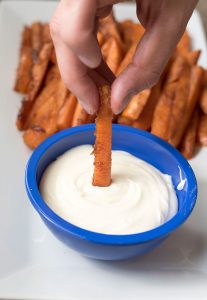 Did I blow your mind?
Probably not.
You know what will blow your mind? Cinnamon Sweet Potato Fries! They're amazing! And the vanilla icing dip was the perfect compliment to send these over the moon in terms of flavor!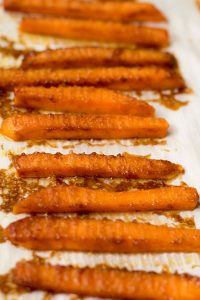 Cinnamon and Brown Sugar
So, I've got to be honest. I don't usually love sweet potato fries. I get how they could be good, but I've always found them to be pretty bland and uninspiring. But these fries that I'm talking about have all been savory. And I think the key is to make them sweet!
Like how you would eat a sweet potato– you put brown sugar and marshmallows on there. But the key, for me, is cinnamon. And lucky for us, Chef Shamy has a butter that does the trick: Chef Shamy Cinnamon Brown Sugar Honey Butter. This stuff really takes the cake in terms of deliciousness.
I truly didn't expect these fries to be that good, but seriously, they were fantastic.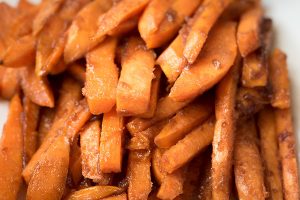 Fork Fries
These Cinnamon Sweet Potato Fries are what I call "Fork Fries." It just means that there are the kind of fries you may want to eat with a fork. Which I don't think is a bad thing– especially when you drizzle some of that vanilla icing over top.
The thing to remember about these fries is: they aren't going to get crispy crunchy. The honey in the butter prevents that. You can bake them so they won't be limp and soft– but even so, they can be hard to dip, and anyway, I prefer to eat these with a fork. It also saves your hands from getting all cinnamon sticky, though, that's not necessarily a thing you wouldn't want.
Enjoy!
In the mood for some savory fries? Try our Baked Garlic Parmesan Fries!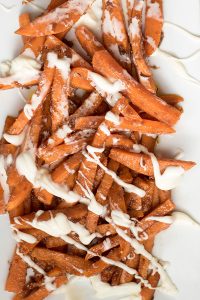 Cinnamon Sweet Potato Fries
Course: Sides, Snacks, Sweets
Directions
Preheat oven to 400° F
Wash and peel the sweet potatoes, then cut into fries
In a ziplock bag, toss the fries in the cornstarch, then place in a bowl. Add the softened Cinnamon Butter, and toss until well combined and every fry coated evenly
Line the coated sweet potato fries on a baking sheet, making sure they don't overlap. Bake for about 15 minutes, then flip. Bake for an additional 10-15 minutes, or until they are golden brown.
For the vanilla icing dip, whisk together sugar, milk, and vanilla, adding more milk until you reach your desired consistency.