The Problem with Baking
Chef Shamy Butter is whipped. The butter is mixed before it's placed in the containers, so there's some air in it. It makes for a great consistency at room temperature– it's really easy to spread, and it's soft and creamy. But whipped butter can cause some problems, especially when baking.
Baking demands that everything be measured perfectly.
When cooking, it doesn't matter really how much of this or how much of that you put into your recipe. But when you're baking, it's important to make sure you've measured correctly.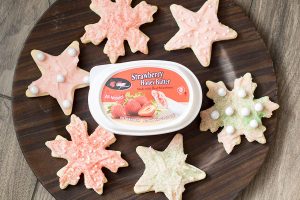 Measuring Whipped Butter
There are two ways to measure whipped butter, and which one you use depends on the recipe.
1. Melt the butter, and measure as a liquid.
Many recipes will call for melted butter. For example, Mini Strawberry Muffins calls for 1/2 cup MELTED Chef Shamy Strawberry Butter. It's pretty easy to measure that. Melt the butter down in the microwave, and measure 1/2 cup. (1/2 cup butter, incidentally, is equivalent to 1 stick)
Remember that Chef Shamy Honey Butters have honey in them. Therefore, you've got to be careful with melted butter in the microwave. If it's too hot, the honey can seize up, and the butter will be difficult to work with.
2. Weigh the butter, using a scale.
Weighing the butter will give you the most accurate results. I weigh butter any time the butter needs to be room temperature, or cold. Vanilla Bean Sour Cream Pound Cake calls for the butter to be room temperature, so that when you cream it with the sugar, it's light and fluffy.
Because room temperature butter will still have little pockets of air, you have to weigh it to get an accurate measurement.
Most scales will weigh in ounces or grams. They're both easy to calculate, but I use grams. Here's a little cheat sheet for you:
1/4 cup: 57 grams
1/3 cup: 76 grams
1/2 cup: 113 grams
1 cup: 227 grams
Here's the whole conversion chart if you're interested.
Don't be afraid to bake with whipped butter! Just measure correctly and enjoy all the delicious food!