The Best Recipe Origin Story
Before we start talking about Vanilla Bean Sour Cream Pound Cake (which is delicious, by the way), I've got to share where I got this recipe. Because it's too good not to share.
My 7th grade science teacher was named Rita Carmen. She must have had a PhD, because we were supposed to call her Dr. Carmen. Dr. Carmen had a heavy Southern accent, and always kept a huge bag of suckers that she would give out if we were good. We watched a lot of Carl Sagan videos about space. The thing I remember the most about Dr. Carmen, though, was her love of raccoons. She talked about them a lot, she had a raccoon as a pet, and she had a tattoo of a raccoon on her tooth. Seriously. She was a great science teacher and a lot of fun. But a little obsessed with raccoons.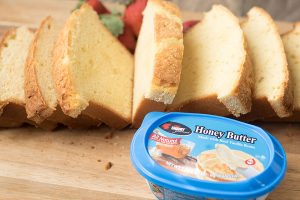 One day Dr. Carmen brought in a pound cake. I can't remember now what the context was. It must have been some kind of special occasion, or a club meeting, or something. But she brought in a pound cake. And I thought it was amazing. And I took a piece home. My mom also thought it was amazing, and asked for the recipe.
Thus, we have Dr. Carmen's Sour Cream Pound Cake.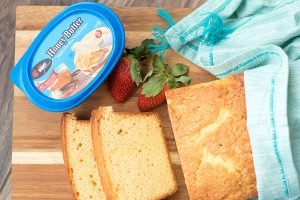 Vanilla Bean and Almond Extract
Dr. Carmen's recipe calls for lots and lots of butter; so of course we substituted Chef Shamy Vanilla Bean Honey Butter! It adds the perfect amount of vanilla to the cake, and the honey adds a little extra natural sweetness. I was worried that vanilla and almond would compete for the dominant flavor, but I was wrong. They compliment each other even better than I could have anticipated.
Just make sure to use the largest size of loaf pan (9x5x3) or your mixture will come spilling out! If you'd prefer, use a tube pan or a bundt pan, just be sure to watch your cooking times!
Enjoy!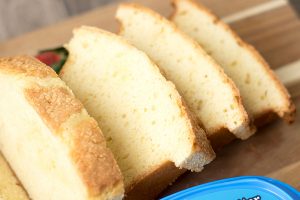 Vanilla Bean Sour Cream Pound Cake
Course: Dessert, Snacks, Sweets
Cooking time
1
hour
30
minutes
Ingredients
2 cups sugar

6 eggs

3 cups flour

1 cup sour cream

¼ tsp. soda

½ tsp. salt

2 tsp. almond extract
Directions
Preheat oven to 325° F
In a large mixing bowl, cream together butter and sugar. Add eggs one at a time, then beat.
Add flour, reserving 2 T. Mix.
Mix in sour cream.
Add reserved flour with baking soda and salt, then add the almond extract. Mix until combined.
Bake in a large loaf pan at 325° F for 1 hour 15 minutes to 1 hour 30 minutes.
Cool on a wire rack.